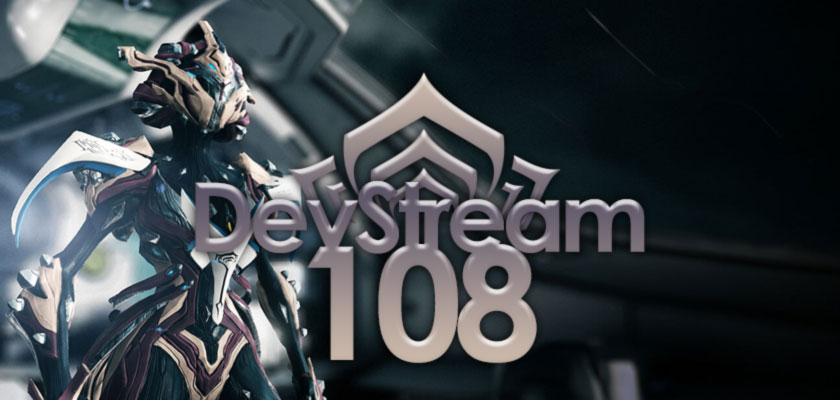 Voici le résumé en anglais du DevStream 108
(source) https://forums.warframe.com/topic/934003-devstream-108-overview/
If you started your St. Paddy's celebrations a day early and were too busy with your green-coloured liquids to watch this week's Devstream – worry not! As usual, we have our overview ready to go.
Learn more about the Endless Kuva plans, Void Onslaught, and more in the full episode on YouTube (in spoiler), or check out the "too-long-didn't-watch" version below.
Housekeeping: 
We're celebrating Warframe's 5 year anniversary! Log in before March 28 at 2 p.m. ET to get your hands on the Dex items, including the new Excalibur Dex Skin! Full details, including some awesome stats, can be found here.
As always, the Gift of the Lotus Alert is live for 24 hours on all platforms after stream!
TennoCon tickets are over half sold out! Come hang out with the Devs in London, Ontario for a full day of Warframe on July 7, 2018: warframe.com/tennocon
Endless Kuva 
While Sheldon originally promised a Dev Workshop, we decided that our plans for Endless Kuva deserved a showcase on our Devstream instead!
These endless missions will occur on Survival on the Fortress itself! Enemies will drop a pickup, the Kuva Filter, which once inserted into a life support tower will turn it into a Kuva Tower (name placeholder). It will no longer restore life support – instead, it will filter out Kuva!
You'll have to defend this tower for X amount of time from enemies who are very unhappy that you'll be taking their Kuva. Once the timer on the tower runs out, the filtered Kuva is yours!
This is at least a week away in terms of deployment.
Actual Kuva drop amount is TBD.
Kuva Jesters and Guardians will make an appearance as well!
Zephyr Prime
Zephyr Prime Access is launching on March 20th, so here's a quick peek at our bird friend in the Arsenal (including the TennoCon 2018 armor!):
Scott still wants to look at her kit further as there are a few lingering issues that we'd like to evolve. He specifically mentioned how her hover functions in closed environments, as well as the speed of her number 2.
Corpus Spider Work-In-Progress
As mentioned in a previous stream, this little guy turns into a saw frisbee – fun!
These big boys turn invisible until you deal a surprising significant amount of damage them to them.
Dark Sectors – Void Onslaught
Some of you might have seen the accidental appearance of a new mission type on the PC leaderboards list: [PH]Void Onslaught. A few savvy Tenno connected the dots to the new "Dark Sector but not actually anymore" mode we've been working on.
For those unaware, this is a dungeon-like time-limited mode where you try to clear as many sectors and get as high of a score as you can within a set time limit. Each sector will have its own different mission condition and will be procedurally generated.
As Scott likes to call it, our plans are kind of like the kitchen sink of Warframe – platter of everything at warp speed.
For those who have kept up with previous Devstreams, you will no longer have to stand at waypoints to clear sectors. Instead, you pick up key fragments that are dropped via combat. Other small tidbits mentioned:
Potential Focus bonuses.
Score goes up as you kill enemies.
Weekly leaderboards with rewards.
Here it is in action:
Warframe Fighting Game 
We previewed this on Prime Time 200, but for those of you who missed it:
This game started off as a concept by a community member, Loco Crazy. We loved it so much we had to make it a reality! Hopefully Tenno can see this in-game sometime in the future.
Khora When!?!
Since her decoupling from the IPS system, we have been revisiting Khora's kit! Scott has rough abilities laid out for her, but we aren't quite ready to share! We'll hopefully have something to show soon.
Uranus Defense Tile
Those of you who frequent Neo Fissures are probably very familiar with the Ur-AH-nus Defense tile. Variety is the spice of life so we're adding a tile variant for Uranus Defense missions, a preview of which you can see below:
New Particles System
PhysX is no longer being supported, so we're making a new GPU-based particle system that will work on all on all platforms! We'll be phasing out PhysX particles and adding our own moving into the future, which you can either turn on or off depending on the strength of your GPU (or overall love for particles).
This new system will also interact with your Warframe as well!
Daily Tribute System
Those of you who watched Devstream 100 might remember the Daily Tribute changes we discussed, namely the introduction of "Tracks". These would allow players to pick what item would be unlocked at their next login milestone. We are still hoping to implement this when our team has time!
Other Tidbits:
We'll be transferring over 10 TennoGen existing items to consoles in 2 batches. Expect those sometime in the future!
Slowed down on new melee weapons (including the Ghoul Chainsaw weapon) because we want to readdress the melee system as a whole. There has been a lot of discussion internally but we're not at the point to officially break ground on it just yet.
No plans to make Ivara use her melee weapon when using Artemis Bow.
Plague Star is coming back but Sheldon won't COMMIT.
Hydroid Prime Trailer – it's being worked on, we promise!
========
THE REMOTE OBSERVER, VOL 24.5
Another mainline graced our PC players this week – and with it came a slew of juicy changes and fixes. For a tl;dr of what shipped, keep reading below.
PC — WHAT YOU MIGHT HAVE MISSED
Dojo Remaster
Placing Decorations now uses a free cam technology, similar to Captura!
Decorations in both the Dojo and Orbiter can now be placed mid-air.
Decoration Placement bindings can be customized at the bottom of Options > Controls.
Load straight into any mission from the Dojo by accessing the Star Chart in the Observatory room!
You can now access your Arsenal via the ESC Menu if you have a completed Observatory Room in your Dojo.
Clan members can contribute their own Orbiter Decorations to the Clan Vault using the Treasury! Orbiter Decorations CANNOT be refunded back to the original Orbiter inventory once they've been donated to the Clan Vault.
UI and UX
Added a Chat command to enable 'Do Not Disturb' (offline mode). Enabling this will prevent any new Private Messages and mission invites from appearing. If you have a private conversation tab active or if you initiate a private conversation, you will still be able to communicate.

Enable Do Not Disturb by typing /offline in Chat
Disable Do Not Disturb by typing /online in Chat

You can now customize your Operator and access your Focus Trees while in Cetus!
Added Fishing, Amps, Zaws and Mining categories to the Foundry.
A special UI message is now displayed when picking up a Syndicate Medallion or Cetus Wisp (similar to Argon Crystal).
You can now re-open the Ambulas boss doors from the outside if you're an unlucky Tenno who got locked out of the arena cause your squad initiated the boss fight without you.
Eidolon Shrine Changes:
Brilliant/Radiant Shards are not removed from player inventory until the respective Eidolon spawns.
Players can now remove their Shard after inserting it into the Shrine (until the Eidolon spawns, at which point it is removed from their inventories and consumed by the Shrine).
All Shards are removed from the Shrine and returned to Player inventories if Night ends, if a Host migration occurs or if players extract before the respective Eidolon spawns.
Vomvalysts no longer drop Sentient Cores when they are auto-'killed' at sunrise.
CONSOLES — WHAT YOU MIGHT HAVE MISSED
There were no deployments this week as we worked hard at getting the next build successfully submitted to Cert – which it was! For a look at what's to come on March 19, read our official update threads here: XB1 | PS4
Have a great weekend, Tenno!