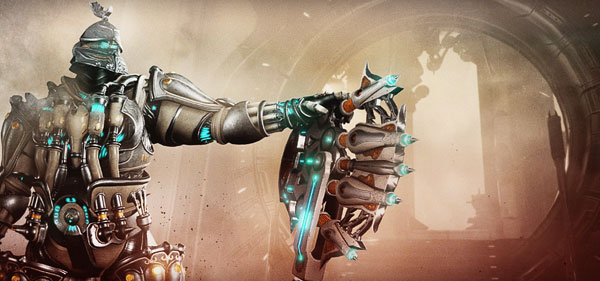 Voici la mise à jour 23.3.0…A vos skins!!!
VAUBAN CITADEL SKIN 
A fortress of ingenuity and style.
Plus unique Citadel styled Tesla grenade! 
MORTIER HEAVY BLADE SKIN 
Sunder all attackers with the signature weapon skin of Vauban Citadel.
MARQUIS SUGATRA 
The signature sugatra of Vauban Citadel.
VAUBAN CITADEL COLLECTION 
Reinforce allies with this ingenious warrior. Contains the Vauban Citadel Skin, the Mortier Heavy Axe Skin, and the Marquis Sugatra.
Vauban Changes & Fixes:
Vauban's Passive has changed! Vauban's new passive: « Deal 25% extra damage to incapacitated enemies ».

Whether by Vauban's own CC'ing abilities, or the abilities of others, Vauban can amplify his damage against the incapacitated!

Tesla is now 'held to charge' for increased Damage & Status Chance.
Increased the particle FX size for a fully charged Tesla.
Repelling Bastille Augment now pushes additional enemies outwards every 4s.
Fixed some particles on the projectile not using Energy colors for Clients.
Changes:
Empty Inventory Slots now appear with an 'Empty Slot' UI text for better recognition.
Increased the gain on the 'Your Creator' Somachord tune.
Fixes:
Fixed players not receiving their Steam Pinnacle Pack goods as reported here: https://forums.warframe.com/topic/994864-anyone-here-bought-the-new-pinnacle-pack-but-didnt-receive-anything-in-game/?tab=comments#comment-10050505
Fixed inability to open the pause menu after viewing certain cinematic scenes during The Sacrifice quest.
Fixed Drop Ships in the Plains sometimes carrying the Sabotage Beacon.
Fixed Clients not getting credit for completing Jordas Golem Assassinate and Mutalist Alad V Assassinate missions.
Fixed a large hitch each time you click Randomize under the loadout button in the Arsenal.
Fixed not being able to donate the Mote Amp if you have multiple.
Fixed Itzal Fighter Escort drones pausing if you get too far away from them.
Fixed « Falcon » Operator voice missing dialog during first mission in The Sacrifice quest
Fixed Kraken sounds not being muffled correctly during stealth effects.
Fixed Drop Ships not playing incoming sound.
Fixed Warframes playing the currently equipped Focus school idle animation instead of their standard Warframe idle animation when loading into the Plains.
Fixed a script error when entering Operator Void Mode.
Fixed a script error when casting Rhino's Rhino Stomp ability.
Fixed a script error when casting Ivara's Prowl ability.
---
Hotfix 23.3.0.1
Fixes:
---
The Sacrifice: Hotfix 23.3.1
Additions:
– Added new Lotus Transmissions for Kuva Siphon missions when attempting to destroy a braid. The new lines better emphasize the clouds being integral to success.
Changes:
– Vauban's Repelling Bastille Augment now functions as it did originally with the intended addition of pushing enemies on enter and every 4 seconds after.
– Subtle tweaks to Vauban's Citadel Skin for a more consistent metal tint.
Fixes:
– Fixed Vauban's Repelling Bastille Augment ignoring an enemy that is ignored by the base effects of Bastille (e.g. if they were ragdolled after being caught).
– Fixed a Host migration after killing an Acolyte sometimes causing the Acolyte to spawn again.
– Fixed the Zenistar disc not deploying when using the Mortier Heavy Blade Skin.
– Fixed the Icarius Syandana missing its animations.
– Fixed randomizing colours and changing loadout appearance in the Simulacrum Arsenal not updating your appearance when you exit the Arsenal.
---
The Sacrifice: Hotfix 23.3.2
We're working on a script to give the intended 7 Day Resource, Drop Chance, Affinity, and Credit Booster to those who purchased the Shock Absorber Pinnacle Pack on Steam. We apologize for the mix up and hope you enjoy your additional Boosters! We will update this thread when the script is complete.
Changes:
Increased the scale of Vauban's Mortier Heavy Blade Skin!
Fixes:
Fixed seeing double Operators in the final cinematic of The Sacrifice.
Fixed the Mortier Heavy Blade Skin sometimes appearing distorted in the Arsenal.
Fixed join-in-progress Clients seeing previously dead enemies standing up.
Fixed Vomvalysts facing the move direction instead of target during combat.
Fixed using the Helminth chair not aligning the camera at the start of the animation.
Fixed Vauban's Citadel Skin Channeling FX covering his whole body.
Fixed Mirage's Eclipse ability causing some Syandanas (eg. Repala, Vasa, etc.) to change colour to match her Warframe Energy.
Fixed a blocky volumetric light during a cinematic in The Sacrifice quest.
Fixed Nekros' Shadow of the Dead Infested Brood Mothers producing looping/stacking maggot sound effects.