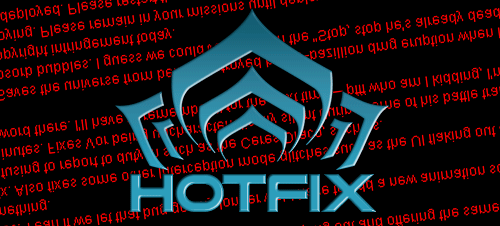 Hotfix 16.11.5 :
Please note that as we diligently work to complete Update 17 there will be no future updates unless absolutely necessary!  Thanks for your patience, Tenno!
Changes:
Ash's Blade Storm is now affected by the Steel Charge Aura Mod.
Players falling out of level bounds should now be teleported back to the level instead of killed.
Adjusted spawns for Void and Infested Defense Missions to prevent too many Corrupted Ancients and Ancient Healers from spawning at once.
Made a slight update to finisher animations for the Prisma Cleavers
Adjusted audio FX on Mesa's Peacemaker shots.
An ammo restore station has been added to the Simulacrum.
Fixes:
Fixed projectile explosions getting larger and stronger each time they're shot down, causing issues as per:https://forums.warfr…iste-ceres-bug/
Fixed an issue where ammo pickups mutated by Hosts would confuse Clients-side Carriers as per: https://forums.warfr…-ammo-clicking/
Fixed instances of Excalibur's Radial Blind animation repeating if players are interrupted by knockdowns or when using Slash Dash or Radial Javelin while casting.
Fixed Ember's Fire Blast killing other players after she's left the match as a Client.
Fixed an issue allowing Shade Sentinel and Huras Kubrow cloaks to stealth players still firing weapons with large magazines.
Fixed some hitches and slow-loading that would occur on Mission Selection.
Fixed the Cernos' holster position impaling Chroma when Chroma uses Effigy.
Fixed several Primary and Secondary weapons showing the 'Per Stack' stat in the Arsenal.
Fixed an issue with Chroma's Elemental Ward causing Grineer Scorch to reflect the AoE slow + Damage aura when augmented as Ice.
Fixed Nekros appearing as blurry in his Codex diorama.
Fixed an issue causing mind-controlled Heavy Gunners to use their ground slam when allies were nearby.
Fixed players receiving a 'power in use' message when casting Excalibur's Exalted Blade while switching to a melee weapon.
Fixed Excalibur's Exalted Blade not actually showing the weapon in hand if cast while switching to a melee weapon.
Fixed the Cephalon in Cephalon Capture turning invisible when players perform quick melee attacks or melee combos.
Protideus – Tenno à la retraite