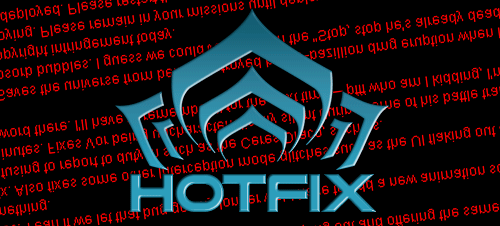 Hotfix 16.5.6 :
Conclave Changes
Players will no longer receive experience for returning the Cephalon in Capture the Cephalon.
Players will now drop 1 energy orb for every 25 energy they had stored at their time of death.
Oro obtained and kills earned will no longer be recorded on the scoreboard after victory has been declared and the match has ended.
All new mods that were not able to be equipped after purchasing from Teshin have been fixed
Increased the damage of the Tigris in PvP.
Empty Energy Stations will instantly spawn orbs when Energy Surge is initiated.
Energy Surge will now activate in Annihilation at 80 total kills or 20 kills for one player.
Oro will now move towards the player that damages another player just before they are killed by the environment.
Changed the visual effect of Oro pickups in Annihilation.
Changes
Made refinements to the custom Liset interior color details.
Zephyr's Turbulence visual effects will look slightly more transparent when cloaked.
Loki's Invisibility, when used with a Sentinel, will now give the Sentinel its proper energy color.
Made various localization updates.
Fixes
Fixed a crash that would occur when editing a Solar Rail Schema.
Fixed a crash caused by weapons and abilities that caused radial damage.
Fixed a visual bug related to using the Atomos on certain enemies as per: https://forums.warfr…ion-visual-bug/
Fixed incorrect channeling FX on Excalibur's Proto Armor skin.
Fixed coloring on Nukor as per: https://forums.warfr…-2#entry5097301
Fixed some channeling FX not showing up correctly for Hosts and Clients.
Fixed Hydroid's Tempest Barrage not properly scaling in damage with rank.
Fixed Oberon and Banshee's Immortal Skin not properly applying to their shoulder pads.
Fixed the Capture target becoming uncapturable if a player dies and then revives mid-capture.
Fixed the player's Warframe colors changing when viewing different Archwings in the Arsenal.
Fixed players receiving a 'not eligible for reward' message when joining a squad for a Nightmare Trial.
Fixed an issue in Corpus Hijack Missions that would prevent mission completion and stop all enemy spawns.
Fixed an issue on Void tilesets that would break navigation markers and enemy navigation.
Fixed a lighting issue appearing in a particular Grineer Spy Vault
Fixed a lighting issue that would appear in Dojo hallways.
Fixed Helios not attacking enemies when equipped with the Deconstructor.
Fixed multiple Conclave Mods that were not showing up as available for purchase through Teshin.
---
Hotfix 16.5.7 :
Fixes
Fixed issues with Energy Orbs falling through the floor in PvP.
Fixed issues with host migration interfering with Energy pickups and generation in PvP.
Fixed missing firing animations for a number of weapons.
Fixed issues with many missing animations for weapons in a number of scenarios.
Fixed missing localization across a number of languages.
---
Hotfix 16.5.8 :
Fixes
Fixed crashes associated with radial damage.
Fixed Loki and Loki Prime's Decoy not firing his pistol.
Fixed players in the Dojo all seeing a 'player down' notification when someone is defeated in a duel.
---
Hotfix 16.5.9 :
Changes
-Huge shader memory optimization (DirectX 11 sees reductions up to 500MB!). This is intended to solve rampant out-of-memory errors for 32bit Windows, especially when entering large levels and relays. Memory reduction has also improved load times for all platforms.
Fixes
-Fixed Alad V's victory inbox message having an arbitrary "*"
-Fixes for missing player avatars in inbox messages and gifting.
-Hooked up Codex icon to Tyl Regor
Protideus – Tenno à la retraite