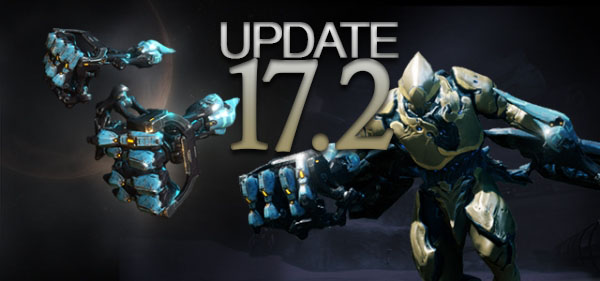 TENNO REINFORCEMENTS
Knux Gauntlets available now!
Pummel your enemies with the Knux Gallium-alloy gauntlets during close-range Archwing combat. Designed by the infamous Tyl Regor.
Add the Knux to your Arsenal by visiting the Market today!
Tigris Changes:
The addition of alt-fire on the Tigris came as an unintended change during the split of alt-fire and aim.  As a result, the alternative fire button on the Tigris has been removed.  Players can now tap the attack button once for a both barrels, or hold down the fire button to delay firing the second barrel. Please note that this does not change the DPS of the Tigris!
Additions:
Agile Aim – Faster Movement While Aiming – Rifle PvP Mod.
Spry Sights – Faster Movement While Aiming – Pistol PvP Mod.
Snap Shot – Faster Movement While Aiming – Shotgun PvP Mod.
Lie In Wait – Higher Aimed Damage, More Recoil – Sniper PvP Mod.
Vital Systems Bypass – Gain Health Regen, but increased Shield Recharge Delay – Warframe PvP Mod.
Conclave Changes:
Cronus, Dakra Prime, Dark Sword, Ether Sword, Heat Sword, Jaw Sword, Mire, Pangolin, Ether Reaper, Hate, Reaper Prime, and Plasma Sword can now be used in PvP.
Skana and Skana Prime damage has been increased in PvP.
Nikana series damage has been decreased in PvP.
Kronen and Boltace damage has been decreased in PvP.
Anku damage has been decreased in PvP.
The Gorgon series of weapons has had their damage increased in PvP.
Removed the Focused Kill Streak Stopped Challenge.
Increased the recover speed from stagger or stun attacks in PvP.
New Conclave Mods have been added to Conclave Challenge reward tables.
Bows now have their ammunition capped at 30 in Conclave.
Teshin will now count down the end of Conclave matches.
Changes:
All players that earned a Gorgon Wraith over the recent Survive or DIE event that did not receive an additional weapon slot have received a weapon slot retroactively, regardless if they have kept or sold the weapon.
Limited the number of Mods that can interact with Exalted Blade as per: https://forums.warfr…-blade-changes/
Added Codex entries for the Grineer Blunt.
Added more visual cues to help better show where to exit Underwater Archwing tilesets when transitioning to land.
The Bailiff Defector is no longer spawnable in the Simulacrum.
Updated the visuals of Simaris' Research menu.
The Elytron`s Thumper will now combine with previous Thumpers if it detonates within its radius.  This will refresh the duration on the previous Thumper and allow damage to stack up to 4 times.
Conclave restriction has been removed from crafting Spectres.
Spectres will now do increased damage based upon their rarity, rarer Spectres will do more damage.
Players constructing Spectres for the first time will receive additional information on construction to help clarify Spectre use.
Reduced camera shake FX when using Excalibur's Exalted Blade.
Fixes:
Fixed Blast procs not functioning properly.  Also fixes Vexing Retaliation not functioning properly.
Fixed the pigment icon displaying on other items at the End of Mission reward screen.
Fixed enemies under Nyx's Mind Control or Chaos not properly attributing their kills to Nyx and Shared Experience to Nyx's Squadmates.
Fixed an issue preventing abilities that do radial damage from not properly hitting enemies.
Fixed players being unable to jump through some connected hallways.
Fixed Grineer Draga not functioning properly when spawned in the Simulacrum.
Fixed a Rank Up notification that would play for Clients when they're not actually ranking up.
Fixed waypoints on loot not properly working.
Fixed multiple blocked zipline cables on some Mars tilesets.
Fixed players being able to escape Earth tilesets by using wall jumps near waterfalls.
Fixed some visual FX unintentionally clipping through players on ziplines.
Fixed an issue that would cause Syndicate Medallions to lose their 'glow' when certain abilities are used nearby, making them very difficult to see.
Fixed Simulor orbs not properly combining with each other when you are at max range.
Fixed the Shock Camo skin for the Obex not properly applying to offhand or feet attachments.
Fixed an error that would occur when looking at friends on the friend's screen.
Fixed a misplaced wall panel on the Void Defense tileset.
Fixed unranked uncommon Fusion Cores being rewarded in Archwing Interception.
Fixed Cryopod tubes appearing as blurry for Hosts and Clients.
Fixed Itzal's Cloak not deactivating on movement.
Fixed the Quanta's projectile explosions causing excessive particle creations.
Fixed the Scan Research Terminal showing overlapping button labels when switching through entries.
Fixed swapping Mod Polarities creating a negative capacity in the Arsenal.
Fixed players guns turning invisible during the Archwing transition when double jumping into water.
Fixed players not being able to properly exit underwater Archwing portions.
Fixed players being unable to interact with terminals on Mobile Defense Missions taking place on the Corpus Ice Planet tileset.
Fixed the Chesa Kubrow`s name and description not displaying on the Imprint display screen.
Fixed <Archwing> appearing in the place of the Archwing icon on items rewarded at the End of Mission screen.
Fixed the UI becoming permanently tinted the wrong color if using a hotkey to switch off the Synthesis Scanner.
Fixed players using controllers / gamepads being unable to navigate the 'Search' option in the Profile Icon submenu.
Fixed some improper electrified water visuals appearing in the Orokin Void tileset.
Fixed Zephyr's Dive Bomb FX lingering underwater when using Archwing as per: https://forums.warfr…ect-underwater/
Fixed Spectres in Defense and Survival Missions not properly scaling to enemies when summoned later in the Mission.
Fixed an issue causing targets hit with Viral procs to have permanent incorrect health values in Missions.
Fixed the Supra's lensflare effect showing through walls.
Fixed some missing textures in Excavation Missions on the Grineer Underwater Lab tileset.
Fixed an audio FX not playing when capturing a Cephalon in Conclave.
Fixed Ash`s Bladestorm becoming caught in an infinite loop in PvP, causing invulnerability and idle clones.
Fixed various localization issues.