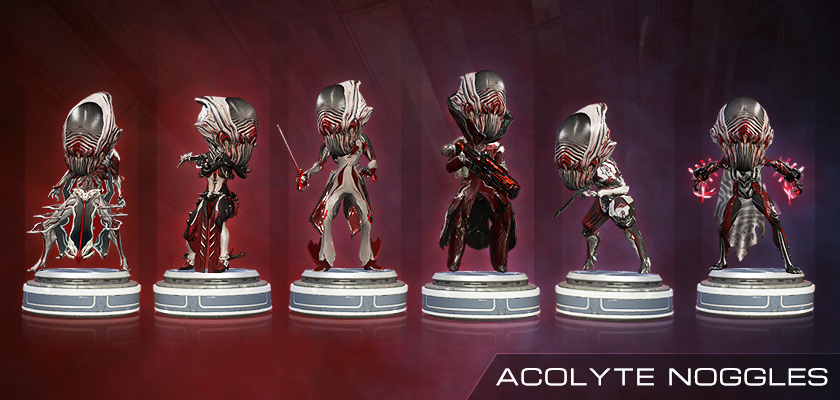 Hotfix 18.4.5
Nouveauté en Temps Limité: Les Noggles des Acolytes!

Prenez les avant qu'ils ne disparraissent!
Changements des Sorties
La Saison 4 est arrivée – mais pourquoi l'attente, vous vous demandez? Continuez à lire pour le découvrir!
Il y a désormais 2 catégories de récompenses: les répétables et les non-répétables. La fenêtre d'état du Monde affiche maintenant ces 2 catégories.
Les récompenses de Sortie non-répétables ont une check box devant elles. Une fois la récompense reçue, la box est validée, qui vous assure de ne plus la recevoir à nouveau pendant la saison en cours.
Quand une récompense non-répétable est retirée de la liste, elle est remplacée dans la liste soit par un pack de 25 coeurs de fusion R5 soit par un pack de 50 coeurs.
Les récompenses répétables peuvent être reçues plusieurs fois.
Notez que les récompenses pourraient changer de catégorie en fonction du Feedback. Pour les lentilles notamment.
Autres changements
---
Hotfix 18.4.6 :
Operation: Shadow Debt Changes / Fixes
Fixed Alad V's Defense Objective marker not properly sticking to him.
Fixed the global community message from Alad V not properly showing the correct date for accounts that had not already received the message.
Fixed Defense Missions not spawning enemies after a Host Migration after the Stalker has appeared.
Fixed the Misery Acolyte missing Mods from their drop table.
Players now have 5 seconds to collect loot from Misery before the Mission ends.
Autres changements
---
Protideus – Tenno à la retraite