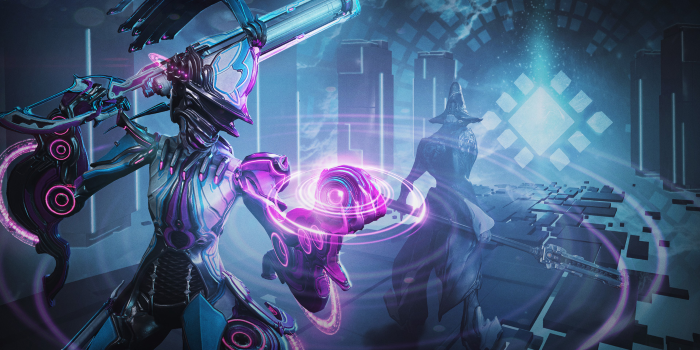 Octavia's Anthem: Hotfix 20.0.9
Mesa and Ivara Noggles have snuck their way into the Market! These came in Update 20: Octavia's Anthem. 
Changes
In the event of server connection failure at End of Mission (i.e. Hotfixes, sudden server disconnection, etc) the 'Abort Inventory Update' button will appear 5 seconds AFTER the failure occurs to prevent you unintentionally hitting it while mashing buttons.
Disabled PhysX effects for drivers newer than 373.06. Please see our detailed Developer Workshop for more information: https://forums.warframe.com/topic/782377-performance-and-the-future-of-physx-effects/
If a tie occurs for first place in the Law of Retribution leaderboards, the team who earned their score first is now listed first for the all-time leaderboards.
Improved text alignment of the Captura camera controls.
Tweaked the Abilities screen for Mirage's Eclipse and Rhino's Roar to show damage increase and reduction as a % to match the formatting of the HUD indicator in-game.
Rounded the buff % for Mirage's Eclipse on the HUD to avoid overlapping adjacent buff indicators.
Removed Kuva Dargyn's from the Simulacrum.
Removed the Rank numbers displaying for 'Recent Players'.
Fixes
Fixed performance issues when Octavia's Resonator has a Mallet attached to it and teleports to get closer to her.
Fixed a common game freeze.
Fixed Nezha's Warding Halo Augment applying to Octavia's Mallet and Resonator.
Fixed Clients able to kill and ragdoll Capture Targets into infinity (and possibly beyond).
Fixed not being able to use Codex/Simaris Scanner on targets that are affected by Limbo's Stasis.
Fixed Chroma's Spectral Scream idle animation not playing the hunch over animation.
Fixed the Mandachord unpausing despite saying it's still paused when using the save or load song options.
Fixed Mag's Magnetize visuals appearing larger than the actual attractor radius when applied to certain enemies (e.g. Bombards).
Fixed a spot loading issue when loading custom Mandachord Songs.
Fixed being downed when attempting to revive another player resulting in being stuck in a downed state.
Fixed Law of Retribution improperly reporting leaderboard times.
Fixed the Ferrox research not having a Clan Affinity value in the Dojo.
Fixed elemental Status FX lingering on enemies killed in Limbo's Stasis causing performance issues.
Fixed custom energy color on the Helminth Charger not being very noticeable.
Fixed the Hulta Leg Guards clipping through Octavia's legs.
Fixed clipping issues with the Dex Nouchali Syandana on the Frost Harka Skin.
Fixed a misplaced decoration in the Corpus Ship tileset.
Conclave Fixes
Fixed Clients not seeing the Lunaro ball explosion/timer FX.
Fixed Lunaro round timer starting at 2:59 instead of 3:00.
Fixed sometimes ending up with an extra player in Conclave.
---
Protideus – Tenno à la retraite