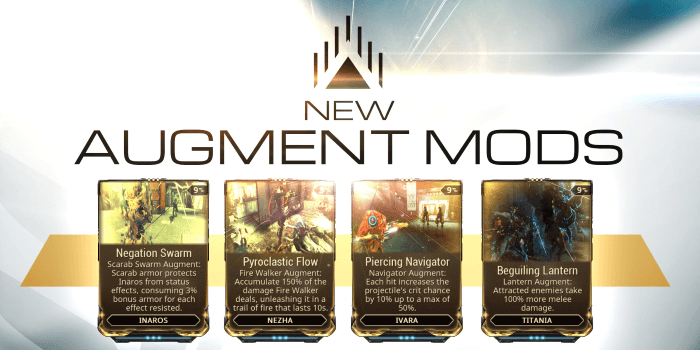 Octavia's Anthem: Update 20.2.0
Additions


CENTURIA SYANDANA 
Take command with this imposing cloak.
AVIA ARMOR SET
Streamlined decorative armor in the style of the Furis and Sybaris.
NEW WARFRAME AUGMENTS (Maxed values)


Nezha:
PYROCLASTIC FLOW
Fire Walker Augment: Accumulate 150% of the damage Fire Walker deals, unleashing it in a trail of fire that lasts 10s.
Inaros:
NEGATION SWARM
Scarab Swarm Augment: Scarab armor protects Inaros from status effects, consuming 3% bonus armor for each effect resisted.
Titania:
BEGUILING LANTERN
Lantern Augment: Attracted enemies take 100% more melee damage from all squadmates.
Ivara:
PIERCING NAVIGATOR
Navigator Augment: Each hit increases the projectile's crit chance by 10% up to a max of 50%.
Earn these now through Syndicate Offerings!
UI Changes
A new setting called Menu Scale has been added under Options > Interface (was previously HUD).

'Full' Menu Scale scales to match your resolution.
'Legacy' Menu Scale will appear similar to pre Update 20 except diegetic screens(Mods, Foundry, etc) scale as well. You will only see the difference in resolutions larger than 1080p.
'Custom' Menu Scale is set and determined by you.
Changes
The Furis has received an updated look and given the PBR treatment!
You can now replay The New Strange quest! As with other replayable quests, completion rewards are not given- enjoy the lore!
Tweaked rewards for Caches in Void Sabotage missions so that the harder mission is more rewarding overall.
Quests that you are viewing to replay will now show the rewards as 'acquired' as you will not receive them again by replying the quest.
Captura controls list now use more of the screen space on larger resolutions.
Changed open door light material in the Grineer Sealab tileset to green instead of orange.
Locked doors will now appear as 'off' (no color) instead of glowing red. This was causing confusion for colorblind players.
Removed Cold damage over time in the Corpus Ice Planet Defense tileset.
Removed requirement to go back to the Liset between some early stages of The New Strange if playing from the Relay.
Removed reticle scale based on spread.
Fixes:
Fixed a rare crash that occurred when playing The New Strange quest.
Fixed being unable to pick a Relic for the next Endless Void Fissure round if a Host migration occurs during the Reward Selection screen.
Fixed Nezha's Warding Grace Augment not ending when all Energy has been consumed.
Fixed Octavia's ability FX and music continuing indefinitely if cast before a Host migration.
Fixed Clients hearing the Octavia Host bass and drum track from their Mandachord song after a Host migration.
Fixed Ash being able to insta-kill the Juggernaut by doing a finisher. Finishers are unable to be performed on the Juggernaut/Juggernaut Behemoth.
Fixed trading for the Ignis Wraith Blueprint resulting in having the Ignis Wraith Research in an unqualified Dojo.
Fixed Captura input filters conflicting with Warframe Abilities input filters (for ex. you could not use Mesa's Peacemaker and then toggle the camera, now you can!).
Fixed Arsenal changes not being saved when loading up a Captura Scene from the Arsenal.
Fixed Chroma's Idle animation not breathing actual fire.
Fix a potential case where Challenge progress (Achievements, Junction tasks) may not be updated under high latency conditions.
Fixed Zenistar Charge attacks increasing the attack speed when equipped with the Dominion Skin.
Fixed a Vaulted Relic being rewarded as Daily Tribute.
Fixed the collision of Defense targets in Defense and Mobile Defense missions being rotated for Clients relative to the mesh.
Potential fix for Clients not seeing Interception UI after a Host migration.
Fixed Chroma's Dynasty Skin loincloth lingering with the pelt instead of his undersuit when casting Effigy.
Fixed the Riv Elite Leg Guard sitting incorrectly on Excalibur.
Fixed a hitch that occurs when another player joins a relay or Dojo.
Fixed pets bending their necks awkwardly to look up when in the Arsenal. They will now look forward when in the Arsenal.
Fixed interacting with your Kubrow/Kavat in the Helminth Infirmary causing the door to close/remain closed on you.
Fixed the Dex Nouchali Syandana clipping on Rhino and Chroma.
Fixed the Ripkas not attaching properly to Chroma's Dynasty Skin
Fixed the Spitefire Graxx Syandana floating a bit on Valkyr Prime with the Gersemi or Graxx Skin.
Fixed Phorid visually flickering when approached.
Fixed Limbo's FX lingering when attempting to fade out during Statis.
Fixed being able to go through physical obstacles by spamming Transference.
Fixed Transferring to the Operator causing a script error.
Fixed Octavia's Amp causing a script error.
Fixed the objective marker in the 'Talk to Simaris' stage of Octavia's Anthem directing you to Darvo instead of Simaris.
Fixed total Defense time not being spread evenly between Defense targets in the Asteroid Mobile Defense mission which includes the cryopod (mission is slightly shorter now).
Fixed offset selectable zones in the Syndicate World State Window.
Fixed missing/double Transmissions in the first mission of The New Strange.
Fixed "<Warnung> » appearing instead of the exclamation mark icon when in the Mandachord screen in French and German.
Fixed long usernames appearing split up into multiple lines in the squad UI.
Fixed the Arsenal Configuration screen text extending beyond designated boundaries.
Fixed the Sari Syandana not closing when on the Landing Craft.
Fixed the Sari Syandana not closing when aiming.
Fixed Baro Chat emoji not using emoji color from Settings.
Fixed various localization errors.
Conclave Changes & Fixes
Entering Limbo's Rift now removes shields. Exiting the Rift starts the Shield recharge delay timer.
Fixed Limbo's Rift Surge not transferring to players outside of the Rift.
---
Octavia's Anthem: Hotfix 20.2.1
Fixes:
Fixed Ivara's Piercing Navigator Augment being marked as an Exilus Mod.
Fixed possible minor performance issue when a Drahk Master steals your weapon.
Fixed another rare crash when joining a mission in progress.
Fixed alignment of right side transmissions on ultra-wide resolutions.
Fixed not being able to redeem any Syndicate Medallions.
Fixed various translation errors.
Fixed Frame Rate box sizing so that it only scales when both window width and height are increased.
Fixed enemies being permanently stunned after parrying their melee attacks.
Fixed a texture related crash.
Fixed Lua Caches inverting reward-tier ordering leftover from the time of Void Keys. To keep things consistent, please note Octavia parts can still be found in the first Cache.
Fixed Alerts and other real time missions missing from the World State Window when viewing the Star Chart in the Relays.
Fixed a crash related to when projectiles from certain weapons are released as Limbo's Stasis is deactivated.
Fixed projectiles from certain weapons not doing damage when they're released in Limbo's Stasis.
Fixed Operator not being able to toggle the camera settings in Captura.
Fixed Dojo Decoration material elements not updating when the contribution counter changes.
Fixed a game freeze when viewing certain enemies in the Codex.
Fixed an issue where linking Songs in chat wouldn't open properly if another menu was open.
---
Octavia's Anthem: Hotfix 20.2.2
Changes:
Changed Duplicates tab to have every instance of a Mod type. Before it would skip past the first Mod of a type if it was upgraded or a raw stack of 1.
Companions are now invincible in Captura.
You now have infinite Ammo in Captura.
Fixes:
Fixed Gear Wheel icons taking an inordinate amount of time to load in during gameplay.
Fixed the Mods list not scrolling properly as per: https://www.reddit.com/r/Warframe/comments/650w9u/mod_screen_is_not_scrolling_properly_leaving_too/
Fixed camera collision for Operator in Captura.
Fixed Ratel's appearing in the Hyena boss cinematic if they spawned at the same time.
Fixed areas in the Grineer Forest tileset terrain where certain Warframe abilities would not function correctly (Nidus' Virulence for example).
Fixed a large amount of particles exploding when leaving Limbo's Cataclysm.
Fixed some UI anchor points not taking menu scale into account.
Fixed being able to multi-purchase Syndicate items that don't need to be purchased more than once (Simulacrum Access Key, etc).
Fixed various clipping issues with the Centuria Syandana.
Fixed using a controller in Steam Big Picture to view Mandachord songs displaying a string of text beside the song named.
Fixed quest marker/dialogue appearing in Suda's Datascape Scene.
Fixed Chroma's Effigy sometimes not doing anything in Captura.
---
Protideus – Tenno à la retraite