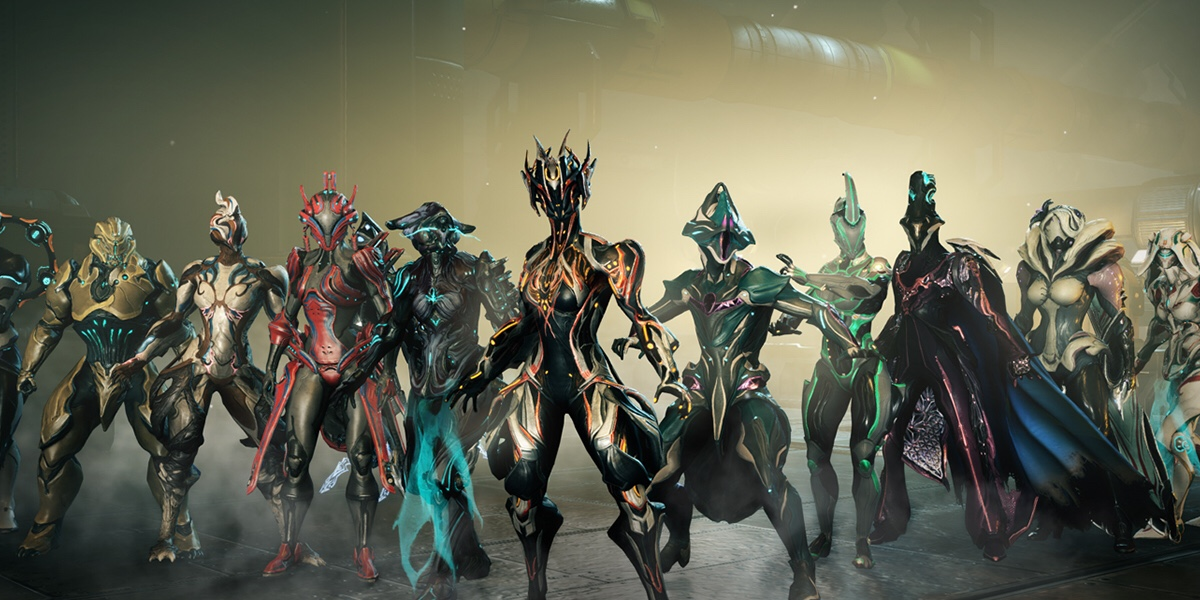 Octavia's Anthem: Update 20.5.0
Additions:
TENNOGEN ROUND 8!
At long last TennoGen Round 8 is here! If you launch the game through the Steam Client, you will be able to purchase these skins!
Syandanas
Incubus Ribbon Syandana by Volkovyi
Covenant Syandana by Frelling Hazmot
Raiji Syandana by led2012
Repala Syandana by Master Noob
Zaikhya Syandana by Malayu and Cobalt
Warframe Skins
Limbo Vasiona Skin by Volkovyi
Volt Zener Skin by Rekkou
Volt Capacitor Skin by Del
Ember Magesty Skin by Prosetisen and Cheshire
Ember Ignition Skin by Kaiceps
Ivara Arcuata Skin by Stenchfury
Ivara Youkai Skin by HitsuSan
Helmets
Saryn Belladonna Helmet by Malayu
Nyx Ampulex Helmet by Vulbjorn, the walrus rider.
Trinity Ancyra Helmet by Arsenal
Rhino Warlust Helmet by Stenchfury
Weapon Skins
Skana Arit Skin by Arsenal (this can be used on any applicable weapon, not just the Skana).
Separate Armor & Syandana customization is here!
You can now color your Attachments and Syandanas separately!
To try this out, when you go to the 'Appearance' tab for your Warframe, you will see Attachments and Syandana are now *separate*. Use each of these areas to customize as you see fit!
Multiplayer Captura & More
Added a 'toggle Friendly Fire' button to photobooth.
Multiplayer Captura is here! This feature supports up to 4 Tenno in a Captura single session. Whether you're bringing Leonardo, Michelangelo, Donatello, and Rafael to life or up to something less reptilian we can't wait to see what you come up with.
So how does it work?

All members must be in a squad together.
The Host can select Captura from the Arsenal (same place it always is) and this will bring all squad members into the session.
When in a session, the Host controls time (pause/unpause), but everyone is able to enter freecam Captura mode when the Host initiates this.
Global Chat Filters are here!
Chat Filters are here for all public chats!
To use these filters, click the new magnifying glass icon and customize your filters!
Filters work per channel (region, trading, recruiting, etc) !
Filters work on an include/exclude basis – you can list what you want to see and what you don't want to see!
General Additions:
Added a limit for the amount of host migrations that can occur in a single mission. 4 host migrations are now the maximum permitted consecutive 4 host migrations in a single session. It'll reject connection if reconnection count exceeded
Changes:
Air Support Turrets will self-destruct after 60 min and Med Towers after 20 min to prevent long-term exploits
Phorid's portrait will now be displayed when viewing Invasion battle details instead of generic Infestation image.
The World State Window will now close when clicking outside of the window instead of having to manually close it.
Reduced the detonation delay of detonated explosive weapons (Talons, Castanas, etc).
Improved Oberon's Hallowed Ground ability to go up slopers.
Updated Aviator, Agility Drift and Heightened Reflexes Mods to read absolute % to avoid double negatives.
Updated Mod descriptions that mentioned Power -Range, Duration, and Efficiency to read as Ability and some where Power should say Energy.
Fixes:
Fixed Phorid Assassination requiring Animo Beacons/Judgment points when occupying Hades/Merrow.
Fixed issues with your currently selected Relic not properly displaying in squads.
Fixed a per-frame spot-load hitch in the lobby after a teammate had selected a Relic.
Fixed an error that would occur if you viewed a Profile that hadn't participated in Operation Ambulas Reborn.
Fixed Tysis playing doubling reload sounds.
Fixed falling through the world in the Simulacrum a Focus ability was used over a teleport volume.
Fixed sell screen for Ayatan Sculptures and Prime Parts in Maroo's Bazaar/Relay showing all items.
Fixed falling through elevators when using Focus abilities while riding the elevator.
Fixed spamming Transference in teleport volumes sometimes resulting in falling out of the world.
Fixed another typo in Alad V's boss fight transmission.
Fixed the quest marker breaking in the first mission of The Archwing quest.
Fixed the Electromagnetic Shield and Heightened Reflexes Mods displaying incorrect text descriptions.
Fixed Sugatras floating away when equipped on the the Scindo Manticore Skin.
Fixed the Incubus Syandana clipping through Titania's wings.
Fixed numerous Syandanas clipping through Chroma's Dynasty Skin.
Fixed Naramon Sundering Blast not giving enemies the correct Melee weapon for their faction when it disarms them.
Fixed the Avenging Truth Mod absorbing damage from ally players.
Fixed Resource purchase prompt displaying unit price as 0 Platinum in the in-game Market.
Fixed the Sacrifice Sentinel Mod putting you into a Bleedout state instead of reviving you in Archwing.
Fixed Clients UI stopping before 100% when charging Inaros' Scarab Armor.
Fixed not being able to recolor some Sugatras.
Fixed reviving in Archwing displaying ground weapons equipped visually all at once.
Fixed Captura Scenes being displayed under 'Crafting Components' when Trading.
Fixed the bottom part of the Clan element in Profile summary being cut off when the player being viewed isn't in a Clan.
Fixed displaced text when viewing a profile.
Fixed Spearmint Scythe skin hand positions being offset on the Anku and Caustacyst.
Fixed the kill counter continuing to track enemy kills despite meeting the required amount for Extermination.
Fixed trade-banned players being able to trade.
Fixed missions timers slowing down the longer an Endless missions lasts.
Fixed a case where Clients would incorrectly think they received a proc they were supposed to be immune to with Inaros' Negation Swarm Mod IF they were shot twice on the same frame, by the same source, and the 2nd shot tried to apply a proc that the 1st shot didn't.
Fixed Dojo bells not playing sounds for Clients.
Fixed a localization issue with some Mod categories not properly displaying (Companions, Augments).
Fixed issues with the menu scaling having unintended effects on the Companions menu if no pets were active.
Fixed performance issues with Frost's Avalanche FX.
Conclave Fixes:
Fixed Energy not being restored when you revive to the last value you had before.
Fixed all kills being reported as 'BULLET JUMP' in Conclave.
Fixed toxin damage hitting Limbo in the rift.
---
Octavia's Anthem: Hotfix 20.5.1
Changes: 
Widened News console display screen.
Fixes:
Fixed the elusive invulnerable enemy bug as per: https://forums.warframe.com/topic/797641-meta-npc-help-quest-activated-invulnerable-enemy-bug. Thank you everyone for contributing to this thread! The issue was caused by enemies entering 'safe zones' like Eximus snowglobes or Nullifier shields, then having those zones destroyed.
Fixed TennoGen Covenant Syandana occasionally bending oddly with various Stances.
Fixed crash when a Client used Focus abilities inside of Limbo's Cataclysm.
Various localization fixes and additions.
Fixed "sessions available" window incorrectly showing friends in Captura as in a Survival mission on Jupiter.
---
Octavia's Anthem: Hotfix 20.5.2
Changes: 
Optimized memory used by UI elements to improve stability on 32-bit systems.
Made several Chat optimizations for scrolling and icon loading.
Refreshing Chat text now only processes the last 200 visible lines (based on the size of the Chat area) instead of the last 200 messages. This improves performance whenever a message takes up more than one line.
Inclusive Chat filters will now display messages based on individual filters instead of all filters. Previously, messages would only be displayed if both filters A AND B were present. Now messages are displayed based on whether they are filter A OR B.
You can now hit "enter" to add to your Chat filters!
Reduced icon loading delay. Icons are only drawn when they come into scroll range instead of every element in range being redrawn after scrolling.
Fixes:
Fixed double initial Chat messages when a new tab is created.
Fixed Mirage's Hall of Mirrors causing some explosives to detonate immediately.
Fixed launcher projectiles auto-detonating on the Mirage's Hall of Mirror clones.
Fixed Transference not working in Captura.
Fixed Hosts/Clients in Captura not having unlimited Operator power.
Fixed Hosts/Clients having to wait for Focus to cool down in Captura.
Fixed Clients being able to enter Captura alone.
Fixed a case where you can be stuck in the Chat resize mode due to the mouse being seen as off-screen for a moment.
Fixed Nezha's Blazing Chakram getting stuck in the terrain resulting in a perpetual 'Power In Use'.
Fixed Ash getting perpetually stuck when teleporting to a Death Orb.
Fixed a script error when viewing time played in a Survival mission in the End Of Mission screen.
Fixed being able to Ignore yourself in Chat.
Fixed missing fade FX from Market icons.
Fixed smooth scrolling lists losing focus in Leaderboard screen when skipping category elements (ie. WEEKLY).
Fixed Chat linked item that are linkable only when owned not showing up as links to anyone who doesn't own it.
Fixed the Operator customization menu remaining/overlapping the UI when viewing Navigation.
Fixed an issue with the Kunai entry diorama being too zoomed in.
Fix a script error when going into Foundry > Components.
Fixed Uppercase and Lowercase Clan names appearing when linked in Chat.
Restored the loading screen tips that had been broken by the addition of new entries.
Fixed the Sharpened Claws Kavat Mod giving Armor removed by 4 Corrosive Projections back to enemies. Bad kitty!
Fixed interrupting Hydroid's Tempest Barrage animation causing the FX to repeat.
Fixed Solo players sometimes unable to launch Captura.
---
Protideus – Tenno à la retraite