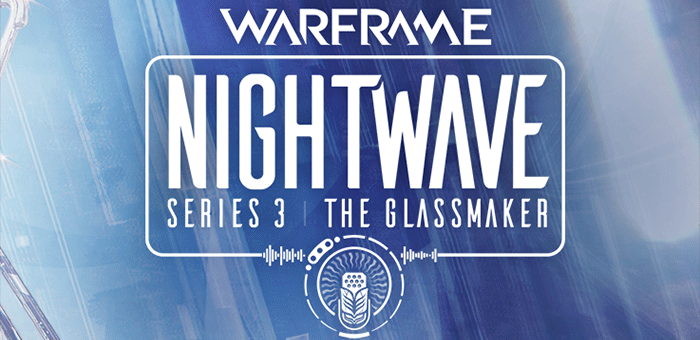 Pouvez-vous Briser la glace, Tenno?
Nora est de retour sur les ondes avec Nightwave: Series 3 – The Glassmaker, en direct sur toutes les plateformes. Entrez dans la scène de crime virtuelle de Nora pour traquer un tueur avec une méthode de meurtre tordue. Montez à travers 30 rangs pour gagner de nouvelles récompenses comme un vaisseau d'atterrissage Nightwave, des améliorations et des personnalisations sur le thème de Céphalon pour votre Warframe, votre opérateur et vos armes de mêlée!
Nightwave: Series 3 — The Glassmaker
After a string of mysterious murders, investigate the latest crime scene to stop a cryptic killer from striking again. Step into Nora's crime-simula to witness the gruesome work of the Glassmaker. Check the shadows, search for clues and follow the trail of "glassed" bodies to crack the case… before it's too late.
Beyond the interactive narrative, Nightwave: Series 3 also introduces new Daily and Weekly Acts! Don't have a Railjack of your own? Railjack Acts can be completed by joining any open crew from the Star Chart.
New Rewards
Jump in now and immediately start earning Nightwave: Series 3 rewards.
At Rank 5, unlock the Cephalon-inspired Boolean Sugatra.
Test out your [Deadly Maneuvers] with the new Magnus Augment at Rank 7.
Accessorize your Operator with Rank 10's Cogna Earpiece.
Equip [Dizzying Rounds] at Rank 20.
Unlock the Boolean Syandana at Rank 28 to make a scene.
Reach Rank 29 to don the Frakta Shoulder Guard.
And for our dedicated Tenno, hit Rank 30 to earn the ultimate reward: an exclusive Nightwave Landing Craft.
Once you've reached Rank 30, complete Nightwave Prestige Ranks to earn additional Crystal Cred. Use these at Nora's Offerings to buy Nitain Extract, Orokin Reactors, Catalysts, Blueprints and more!
Ash Shroud Collection
All that remains is blood and dust. Become the shadow with the Ash Shroud Collection, which includes the cold-blooded Ash Shroud Skin, the venerable Causta Bow Skin and the forged-from-fire-and-bone Cremata Syandana.
Keep your eyes open, Dreamers. The Glassmaker is bound to strike again.
Nightwave FAQ
What is Nightwave?
Ongoing pirate radio broadcast hosted by Nora Night, the eyes and ears of the Origin System. Each Nightwave Series will unfold over several weeks and tell a brand-new story. Completing daily and weekly challenges – called Acts – will unlock limited-time rewards.
How do I earn Nightwave rewards?
Complete Acts and rank up your Nightwave Standing to earn power items, exclusive Customizations, Nightwave-specific currency and more! Make sure to complete all 30 Ranks before the Series is over to earn all the rewards.
How long will Series 3 run?
We don't have an exact end date yet, but expect Series 3 to run for at least two months. An official announcement will be made on our Forums at a later date! Each Series is a fresh start for all players, which means your Crystal Cred will expire when the Series is completed. Spend them before they disappear!
What are Episodes? When will new Episodes come out?
Episodes are introduced throughout the course of a Nightwave Series, which move the story along and may include in-game changes (e.g. more enemies, stronger enemies).