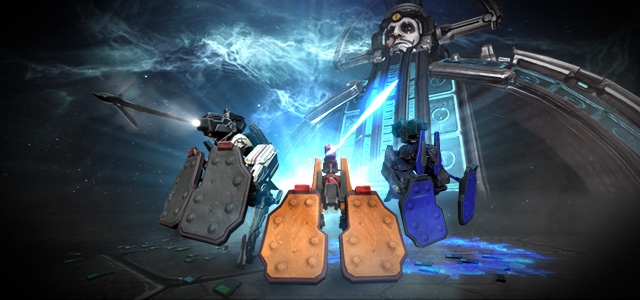 False Profits PSA:
The first few hours of this event have led to immediate troubleshooting. On Prime Time we experienced one of the more commonly reported bugs, and are working on reproducing it for the next Hotfix (which will be 16.4.2).
Currently there are other issues with the event that can lead to the following scenarios:
Host only getting scores (witnessed on Prime Time).
UI 'Transfer' Indicators only working for Hosts.
Permanent Knockdown for Clients
Offerings being consumed in quantities greater than 1 (we are working on reimbursement script for this)
Errors in commands given by Lotus vs actions (killing Bursa when asked leading to failure).
If you have concise reproduction steps for an issue, please list them here in this thread.
If you have an EE.log file that would help with a mission error (found in /%localappdata%/Warframe), please send it to support.warframe.com and post your ticket number in this thread. There is a category on the support desk for logs requested from us here in the forums. You can find it in "Logs and Metadata", then "Files/Logs requested in Forums".
As we monitor the attempts run on this event, we do see people are earning their Quanta Vandals already.
We are looking to ensure all the possible cases that lead to progression stoppers are resolved – your frustration is our frustration and we'll fix things as soon as we can.
Please note that we made Clan scores larger by removing the divisor that was being applied. Positions are still the same, there are just bigger numbers now.
Anything nonconstructive will be removed as per our forum rules and guidelines.
---
Hotfix 16.4.1 :
Fixes
– Fixed Amprex not chaining to nearby enemies.
– Fixed Ammo Stock mod incorrectly appearing as its Prime counterpart across various UI screens.
– Fixed players unable to claim Arcane Enhancements from the foundry.
– Fixed Design Council window flashing incessantly.
– Fixed a particle effect that could cause performance issues during the Shipyards phase of the Law of Retribution Trial.
– Fixed missing graphic for Vex Armour augment.
– Fixed unreleased weapons appearing in Codex.
– Fixed placeholder text appearing in Game Invite panel.
– Fixed localization bugs.
– Fixed various gameplay crashes.
– Tweaked volume of Braton Vandal.
---
Hotfix 16.4.2 :
Event Fixes: 
– Fixed an issue that allowed you to use your Void Offerings via the Gear Menu when you were close to a Bursa. The intended way for your offering to be retrieved was via hacking the Bursa's back panel, not by using the Gear menu. This is what lead to the majority of score-related & credit consumption bugs. Now that it is fixed, we will begin working on the reimbursement script.
– Fixed an issue where Stalker-like enemies could make the Event mission break.
Fixes:
– Fixed Clan emblems not being activated even though they had been approved. All clan emblems that should have been active (you received approval confirmation) will now be available in game! If you are still missing yours, let us know in this thread! 
Reimbursement Script Details:
– The intent of the event was to only ever allow you risk 1 (one) Void Offering.
– The bug with the Gear menu allowed you to spend >1.
– We will  be auditing for all times when >1 Offering was claimed in any denomination (1000, 10000, 100000) and returning it to you account.
This script will take some time to write, but we will let you know when it's begun and when it's complete.
---
Hotfix 16.4.3 :
Conclave Changes
Increased the damage of the Sybaris in PvP.
Made terrain adjustments to help make wall running smoother on The Lost Halls Conclave Map.
Event Fixes / Changes
Event Scoring will now allow for the level of the Bursa to act as a multiplier for your score. The higher level the Bursa, the greater your score.
Fixed Bursa MOA reinforcements not properly spawning to defend the Bursa MOA, and adjusted the levels of the enemy reinforcements.
Fixed players not receiving any credits / Operation completion if they participate in a Bursa MOA hack in a party with a player that had no Void Offerings in their inventory.  Players affected by this will be reimbursed appropriate to Credits lost through this error.
Bursa MOA's radial blind cooldown has been increased from 16s to 30s.
Bursa MOA's radial blind range has been decreased from 90m to 15m.
Updated various audio effects on Bursa MOA's attacks.
Changes
Made various audio adjustments to the Cestra and Dual Cestra.
Fixes
Fixed Oberon's Reckoning not lifting enemies when cast.
Fixed the Terminal Velocity Mod not being equippable on the Tonkor as per: https://forums.warfr…ble-for-tonkor/
Fixed players spawning in unsafe locations when using the /unstuck command.
Fixed Uranus missing an Archwing Mission node.
Fixed an issue where players would load with the wrong items when playing Archwing after having finished the Zanuka capture mission.
Fixed a potential crash that would occur in Conclave during a host migration.
Fixed Spy missions giving out rewards randomly, instead of giving out rewards based on how many vaults have been cracked.
Fixed Mirage's Clones being able to hit Mirage with Tonkor shots.
Fixed the Explosive Demise Mod harming the player that has it equipped.
Fixed players getting stuck in a knockdown state after being hit by a knockdown attack just after a parry.
Fixed the Quanta Vandal not appearing in the player Codex.
Protideus – Tenno à la retraite