Stand out with these new items! 
Set your enemies in flames with the Javlok. Complete this loadout by adding the Laddak Cloak and Boloket Sugatra. Customize your Warframe with a new round of community-created TennoGen items on the Steam Workshop!
TENNO REINFORCEMENTS:
JAVLOK
Launch super-heated slugs at individual foes, or hurl the entire weapon and ignite groups of enemies in a flash inferno.
LADDAK CLOAK
Fashioned with spare field components, this Cloak is an example of rarely seen creativity within the Grineer ranks.
BOLOKET SUGATRA
Fashioned by frontline grunts, this military-grade weapon embellishment was built to withstand the stresses of combat.
Add these new additions to your Arsenal by visiting the in-game Market today!
GRINEER SHIPYARDS REMASTERED: 
The Grineer Shipyards are getting a facelift. This reworked Tileset introduces updated rain and lighting effects and a sound remaster.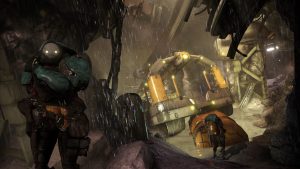 TENNOGEN:
Add 10 new community-created TennoGen items to your Arsenal and support their creators in the process! Not only do the creators get to see their ideas come to life, they also receive a share of their items' sales from the Warframe Store.
HELMETS
Ash Carabid Helmet by artarrwen
Atlas Telamon Helmet by artarrwen
Banshee Echo Helmet by Rekkou
SKINS
Chroma Vojnik Battle-Damaged Skin by Volkovyi
Ember Graxx Skin and Helmet by Faven_PS
Frost Emperor Skin and Helmet by Hitsu San
Nyx Graxx Skin and Helmet by Faven_PS
Saryn Graxx Skin and Helmet by Faven_PS
SYANDANAS
Sari Syandana by malayu
Spitefire Graxx Syandana by Faven_PS
Don't feel like creating content? You can still vote on your favorite submissions for our next round of TennoGen and increase the chance of getting them in the game!
Purchase these items by logging in to Warframe through Steam and visiting the 'Steam' tab in the in-game Market.
And a big thank you for such a wonderful year of Tennogen!
CONCLAVE:
Watch the Conclave for fun new variant modes coming soon!
Variant modes can now be selected by a new toggle button!
ADDITIONS:
You can now acquire a Hyekka Gene-Masking Kit! (Kavat armor unavailable for the Hyekka for now while we work on setting it up)
Look for the new Grineer Workers in the remastered Shipyard!
Orokin Derelict Node completion will now track properly on the Solar Map with a blue flashing indicator for those you have not completed! However, nodes will not be retroactively shown as 'complete', so they'll all show blue until completed again.
CHANGES:
Weapons with infinite clip will now show infinite icon instead of 0
The UI will no longer show level or affinity bar with items that don't have a level or affinity
Kuva Cycle cost now capped at 3500 (as per our workshop here)
Tweaked the gain on various loud weapons
Buffed Prosecutor health
FIXES:
Fixed a crash when running out of energy when using an energy drain ability while playing as the Operator
Fixed a progression stopper in The War Within
Fixed Loki's Invisibility while switching to Operator
Fixed issue with Halikar's visual effects
Fixed Titania Solstice skin visual bug after exiting Razorwing
Fixed Pet imprint previews overlapping when quickly clicking through list
Fixed conditional Mod buffs being activated by Operator power.
Fixed Operator mode causing buffs to last forever
Fixed Drekar Ballista Eximus diorama lighting in the Codex
Fixed the flashlight on the Twin Grakatas & Dual Cestra
Fixed color issue on the Officium Syandana while looking at the Solar Map
Fixed Volt's passive being affected by the Operator
---
The War Within: Hotfix 19.4.1
Changes:
Tweaked reverb settings in the Grineer Shipyard
Fixes:
Fixed Sari Syandana covering up the Menu
Fixed some unreleased Corpus Cosmetics from showing in the Market
Fixed infested maggot DoT and slow debuff not being removed from Saryn if she uses Molt while they are attached.
Fixed missing arm attachments in Frost Emperor skin
Fixed extra stat appended to end of Heavy Caliber description
Fixed potential art crash in Shipyard
Fixed out of bounds in Shipyard being placed in valid gameplay space.
Fixed Grineer workers needing different numbers of scans to complete (they should all require 10 now)
Fixed a progstop in TWW final Queen fight
Fixed snow showing during fly-in cinematics
Fixed being unable to remove some items from Wishlist
---