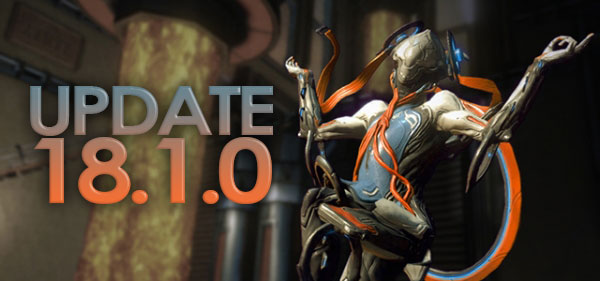 La Mise à Jour Anneau de Feu est maintenant disponible!
Le fougueux Nezha fait son apparition, débarassant ses alliés de leurs maux et le champ de bataille de ses ennemis avec grâce. Combinez ses mouvements agiles avec le nouveau Nunchaku Shaku pour infliger des dommages dévastateurs aux ennemis sur le champ de bataille.
Nezha – Une façade menue et taquine dissimule l'immense puissance de cette Warframe.
· Danse du Feu – Nezha crée une traînée de flammes derrière lui, brûlant les ennemis et purifiant les alliés.
· Chakram Enflammé – Nezha lance un anneau enflammé qui brûle les ennemis et leur fait émettre une impulsion guérissante à leur mort. Si activé de nouveau, Nezha se téléporte à l'emplacement de l'anneau.
· Aura Protectrice – Nezha crée un anneau de feu protecteur qui étourdit et inflige des dégâts aux ennemis qui s'approchent de trop.
· Lances Célestes – Nezha empale les ennemis à proximité sur des lances qui surgissent du sol.
Shaku – Avec ces nunchakus à la vitesse fulgurante, les ennemis ne sauront jamais ce qui les a frappé.
Anneau de Feu n'est pas seulement là pour apporter de la chaleur à la saison des Fêtes. Cette Mise à Jour accorde également au plaisantin élusif de Warframe une mise à jour de sa garde-robe. Un tout nouvel Aspect Deluxe et un set d'Armure unique, qui donneront à Loki un aspect stylé que les ennemis apprécieront — si ils arrivent à l'apercevoir. Ou utilisez les Double Kamas avec un tout nouvel Aspect pour vous assurer qu'il ne l'aperçoivent jamais.
Aspect Knave Loki – Une nouvelle tenue pour un ancien plaisantin.
Casque Knave Loki – Un Casque qui ira avec l'Aspect Knave de Loki.
Grèves Hulta – Des Grèves décoratives pour votre Warframe.
Plastron Hulta – Un Plastron décoratif pour votre Warframe.
Épaulières Hulta – Des Épaulières décoratives pour votre Warframe.
Aspect Nari & Vali pour Double Kamas – Transformez les doubles Kamas en un duo stylé dague et épée.
Aspect Magus Scimitar – Un aspect unique pour le Scimitar.
Icône de Profil Knave Loki – Une icône de profil montrant Knave Loki.
Bundle Aspect Deluxe Loki – Frappez depuis les ombres avec cette sélection avec cet ensemble de costumes
Embrassez l'esprit des Fêtes avec ces Customisations disponibles pour une durée limitée, ou revêtez une nouvelle Syandana inspirée par la nature.
Chapeau d'Assistant du Père Noël – Un chapeau festif pour votre Kubrow.
Motif Nez Écarlate – Un motif festif pour votre Kubrow
Aspect Festif Sonicor – Un aspect festif pour le Sonicor.
Ringers – Sonnez tout le temps avec cet aspect festif pour toutes les armes gantelets.
Faux Spearmint – Célébrez la saison des fêtes en déclenchant une mort à la menthe fraiche sur tous vos ennemis préférés.
Décorations Festives pour votre Vaisseau – Décorez votre Vaisseau avec ces ornements et de la neige.
Casque Loxley – Un casque au style unique pour Ivara.
Syandana Foxglove – Enveloppez votre Warframe dans cette Syandana soyeuse, inspirée par la nature.
Syandana Bombyx – Enveloppez votre Warframe dans cette Syandana soyeuse, inspirée par la nature.
Syandana Samia – Enveloppez votre Warframe dans cette Syandana soyeuse, inspirée par la nature.
Pack Syandana Phalène – Trois capes de soie inspirées par la nature.
Obtenez Nezha, l'Aspect Deluxe Loki, le Shaku, et de nouvelles Customisations Tenno en visitant le Marché aujourd'hui!
---
Sentient Changes
Sentient enemies will now be granted immunity to physical damage types separately (i.e. Puncture, Slash, Impact).
Shadow Stalker will now be granted immunity to physical damage types separately (i.e. Puncture, Slash, Impact).
Sentients now have a unique visual FX for a short period after becoming immune to a damage type.
Made various visual / audio FX adjustments to Sentient enemies.
Adjusted the spawn points of Sentient Oculysts.
Conclave Changes
The following Warframes can no longer gain energy while certain Abilities are active:

Chroma – Vex Armor and Effigy
Ember – World on Fire
Excalibur – Exalted Blade
Ivara – Artemis Bow
Limbo – Rift Walk
Rhino – Iron Skin
Valkyr – Hysteria
Wukong – Defy and Primal Fury
Nova – Null Star

All Warframes now have Conclave specific Health, Shield and Armour values.
Warframe Conclave Mobility stats and Mods have been adjusted adjusted to match new Effective Hit Point values.
Primary and Secondary weapon damage has been adjusted to match new Conclave EHP values.
Warframe Ability damage has been adjusted to match new Conclave EHP values.
Elemental Mobility Mods no longer work with Mirage's clones until she is at full Energy.
Automatic weapons and shotguns now have a 1.2x damage modifier for headshots in Conclave.
Burst and semi-automatic weapons now have a 1.5x damage modifier for headshots in Conclave.
Kill X with Primary/Secondary weapon Challenges have been removed from the Capture the Cephalon game type.
Despair, the Hikou series and the AkStiletto are now available for use in Conclave.
Sortie Changes
Sortie Season 2 is now live!  Keep an eye on the Sortie menu in the World State Window to observe changes made to the Sortie Reward Pool. We realize this is 2 days ahead of schedule, but we wanted to give everyone a chance to get Nezha starting today!
Changes
Adjusted audio FX on the Grineer Toxin Injector.
Adjusted Landing Craft docking audio FX on Corpus Archwing Trench Run Tilesets.
Reduced the visual FX on Corrosive / Radiation proc's green glow.
Adjusted the audio FX of Rhino's Roar.
Made adjustments to the visual FX in Operator Transmissions.
Improved audio FX on Void Portals.
Made some terrain adjustments to the Orokin Moon tileset.
Made slight adjustments to the trials within the Orokin Moon tileset.
Reduced the number of large group spawns occurring in Exterminate Missions.
Reaper Prime has been given a PBR update!
Wukong's Iron Jab will now increase the melee combo counter on hit.
Self-damage will no longer increase Rhino's Iron Skin damage buffer.
Fixes
Fixed environmental lasers hitting players that are inside of Limbo's Rift.
Fixed an error causing the Capture target to die instantly when entering water in the Grineer Underwater Sealab tileset.
Fixed Clients not properly seeing visual FX created by Ivara's Sleep Arrow.
Fixed Sentient immunity visual FX not showing a proper color change.
Fixed Ember's World on Fire explosive impacts not properly displaying.
Fixed a piece of pipe players could get caught on in the Orokin Moon tileset.
Fixed Rank 3 Fusion Cores being represented in the UI of Sortie Rewards instead of Rank 5 Fusion Cores. This was a UI bug only.
Fixed the player's Warframe blocking the Mod UI in a Relay when the Mod UI is accessed directly, instead of through the Arsenal.
Fixed Mesa Specters being able to use Peacemaker while moving, allowing them to indefinitely shoot everything.
Fixed Conclave Challenges not showing they are complete when they have been completed.
Fixed an error causing a black screen when players enter the Arsenal after using the Conclave Console.
Fixed Clients seeing duplicate visual FX trails from the Elytron's exhaust.
Fixed innate punchthrough not functioning properly for the Drakgoon.
Fixed the Daily Reward not properly showing a 'unlock' animation.
Fixed the Arsenal not properly displaying a Warframe when previewing a selection.
Fixed enemies Banished by Limbo still being able to affect other non-Banished enemies with their auras. For example, Ancient Healer Auras still affected other Infested even if the Ancient Healer was Banished.
Fixed Atlas' Rumblers repeating their spawn animation when being shot at while being created.
Fixed an error that would occur when notifying players that their gift has been received.
Fixed Ivara's Agile idle animation using her Artemis Bow as a prop, causing other Warframes using the animation to look a bit unusual.
Fixed the HUD not showing up for Hosts when playing a Mission with a pre-assembled Squad.
Fixed overlapping text that would occur when a Spy Mission becomes an Exterminate.
Fixed an error in the Jordas Verdict Trial causing players using a Vaporizers to lose the ability to reload when used with no Antiserum.
Fixed objects on conveyor belts moving in the wrong direction on the Grineer Galleon tileset.
Fixed some Warframe skins not being properly viewable after previewing a Deluxe skin in the Market.
Fixed the Natah Quest not being flagged as completed even after the player receives their reward.
Fixed players being able to unintentionally create multiple trade windows while in vendor mode in Maroo's Bazaar.
Fixed a rare error that would cause players to experience a menu that would freeze on screen after a respawn.
Fixed sword whip melee weapons having a slightly off center camera when viewed in the Arsenal.
Fixed an error caused by the in-game VOIP that would cause hangups when trying to test a microphone or when switching an audio device.
Fixed buffs in the player's HUD being removed prematurely.
Fixed a loss of mobility players would experience when using the Pause Menu while kneeling in a Relay.
Fixed Conclave 'Player Slain' messages sometimes providing incorrect information.
Fixed Ivara's Artemis Bow HUD appearing while Ivara is carrying the Operator in the Second Dream Quest.
Fixed enemy markers not appearing in Archwing Defense Missions, making it difficult to locate surviving enemies.
Fixed Steam's Big Picture button not properly showing the correct icons.
Fixed various localization issues.