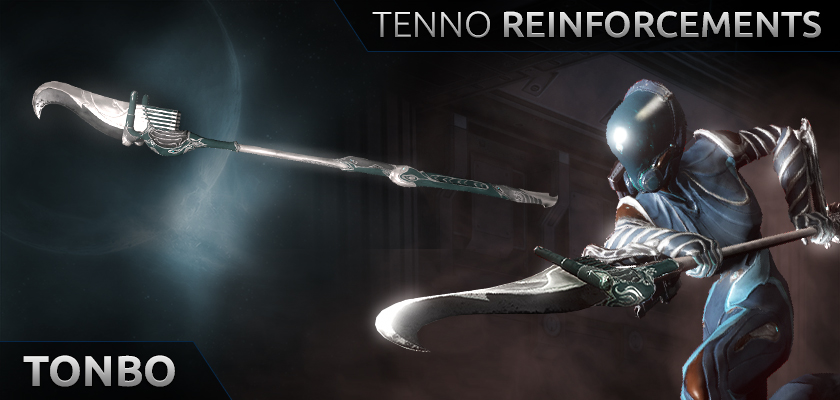 15.15
RÉAPPROVISIONNEMENT DE L'ÉQUIPEMENT TENNO
Découpez vos ennemis avec vitesse et précision lorsque vous vous servez du Tonbo. Lors de l'ancienne guerre, plusieurs Tennos se servaient uniquement du Tonbo.
Le voici en action:
Add the Tonbo to your Arsenal by visiting the Market or starting your Clan Research today!
Changes
Basic information about each Mission will appear when highlighting a node that has multiple Missions.
Corpus and Grineer Spy Vaults will now have greater variety in difficulty scaling on higher difficulty.
Added objective marker to door hack panel of in Grineer Spy Missions.
Changed Corpus vs Grineer Spy Missions on Europa to be Corpus only.
Players will now receive a notification when trying to chat in a channel they've been banned or muted in.
Reduced the number of scans required on the Bomb in the Once Awake Quest.
Fixes
Fixed lasers not disabling in Corpus Spy Missions after the lasers have been destroyed.
Fixed inaccessible Rare Loot Crates and Syndicate Medallions on Grineer Spy Missions.
Fixed force fields in Spy Missions not disappearing when destroyed / deactivated.
Fixed alarms still being triggerable after data has been extracted in Spy Missions.
Fixed Neural Sensors and Neurodes having the wrong descriptions in the Market.
---
15.15.0.1
Changes
Ratka Ballistica now deals 30 damage per uncharged bolt. The damage type is broken down to 15 Puncture, 7.5 Impact and 7.5 Slash.
Fixes
Fixed the Tonbo not appearing in Tenno Research Lab.
Protideus – Tenno à la retraite