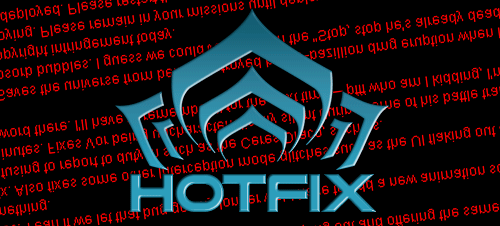 HOTFIX 16.1.5 :
Changes
Improved the texture details on Volt Prime.
Removed the tutorial versions of enemies from Codex, as they are identical to normal enemies.
Fixes
Fixed Boss Sigils missing from the drop tables. Our apologies on how long this took to investigate.
Fixed Chroma playing idle animations when using Spectral Scream as per: https://forums.warfr…pectral-scream/
Fixed Rhino's Iron Skin not being deactivated when entering bleedout, preventing players from bleeding out.
Fixed some areas in the Relay where players could escape in the Navigation room.
Fixed extensive audio when using Frosts' Augment Mods.
Fixed issue preventing players from being able to complete their scans for Maroo.
Fixed various gameplay crashes.
---
HOTFIX 16.1.6 :
Changes
Made various localization changes for Portuguese and Chinese.
Fixes
Added packet-loss tolerance to the network analysis to avoid bogus Firewall errors (evidently Singapore is difficult for some people to communicate with).
---
Protideus – Tenno à la retraite