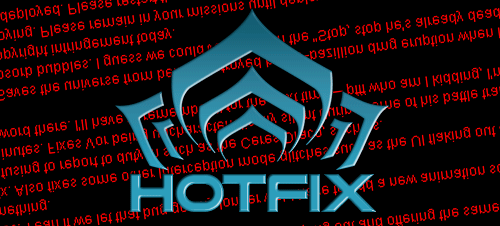 Hotfix 16.3.4 :
AMD Driver Issues:
In response to continued crashes on AMD drivers we're rolling back our Hotfix change that enabled our Launcher to automatically adjust Driver versions from DirectX 10 or 11.  We apologize for the inconvenience and are working hard to get a permanent solution to this issue.
More information, including future status updates, can be found here: https://forums.warframe.com/index.php?/topic/433642-crashes-on-amd-catalyst-1412-omega-update/
Fixes
Fixed the Temple of Honor not appearing on the player map in Dojos.
Fixed missing wall textures in Cephalon Capture Orokin level.
Fixed a lack of collision on some wall textures on Corpus ship tilesets.
Fixed a door texture on Assassination Missions in Grineer Shipyards that had missing textures.
Fixed the Rakta Ballistica not sitting on Chroma when holstered.
Fixed Clan ranks not being properly localized.
Fixed various broken textures in Archwing Missions.
Fixed 7 day Affinity Booster not working correctly for accounts under the referral program.
Fixed Vauban's Perpetual Vortex Mod no longer pulling in enemies after the initial Vortex time has ended.
Fixed muzzle flash not showing properly on weapons as per: https://forums.warfr…-weapons/page-2
---
Hotfix 16.3.5 :
AMD Fixes
With the generous assistance of several engineers from AMD we have implemented a possible workaround for a nasty crash that could occur when running multi-threaded DirectX 10 or 11 on the latest Catalyst 14.12 drivers. We are optimistic that this workaround will not only avoid the crash but may also eliminate other related problems like black-textures and other cases of memory-corruption.
More details on the crash can be found here: https://forums.warfr…2-omega-update/
At this time we would encourage all players using AMD graphics cards to update to the latest Catalyst Omega 14.12 drivers and re-enable DirectX 11 in the launcher settings. We will be analyzing crashes reported over the weekend to confirm that this problem is indeed fixed and so as always we would appreciate it if you could submit all crashes to us:
Conclave Changes
Increased the damage of Sicarus weapons in PvP.
Fixes
Fixed secondary weapons floating away from Chroma (for real this time).
Fixed kills from Chroma's Effigy, Nekros' Shadows of the Dead and the Itzal Archwing's Fighter Escort not counting towards player stats.
---
Protideus – Tenno à la retraite