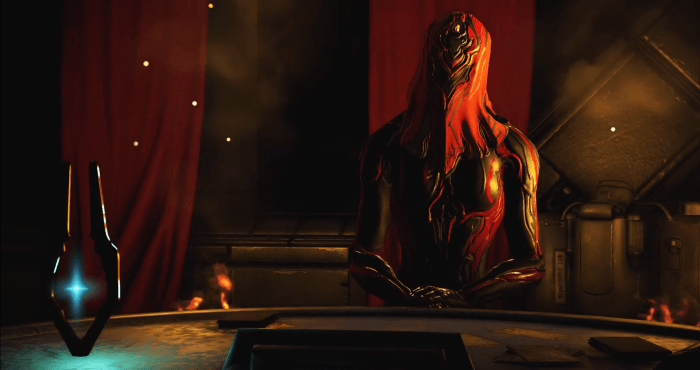 Mise à jour 21.0.4 :
A Donda Decoration has been added!
After completing the Chains of Harrow quest, visit Palladino in Iron Wake to purchase your Donda for a small Ducat fee. Shiny for a shiny!
Additions:
Added notification for Energy gained by hitting enemies with Void Dash (it was always 10 energy/enemy but you could never see this).
Harrow Changes:
(Values based on Rank 3 Abilities, lower Ranks adjusted similarly)
Penance
Increased Duration from Shields by 25%
Increased Duration cap from 60 seconds to 120 seconds
Increased Fire Rate from 25% to 35%
Increased Reload Speed from 50% to 70%
Thurible
Increased Range from 15m to 20m
Sped up Energy Channeling by 50%
Energy Channeling speed is now affected by Natural Talent
Covenant
Increase Crit per 100 Damage from 1.25% to 1.5%
Defection Changes & Fixes:
Changed Defection squad sizes to a constant 3 in Solo or 4 in Multiplayer.
Defection sessions are now joinable until 1 squad is rescued or 3 or more Defectors are killed. This will result in more open Defection sessions to join.
Reduced the scans required on the White Charger from 20 to 3.
Defection Alerts now count squads rescued instead of individuals rescued. Requirement for normal Alerts is 4 squads (1 squad from A, 1 from B, 2 from C in multiplayer)
Fixed no enemies spawning after a Host migration.
Chains of Harrow Quest Changes (vague for spoiler reason):
Increased the amount of Energy returned to the Operator by killing enemies in the Chains of Harrow quest fight from 15 to 30.
An objective text will now indicate when a certain mechanic is invulnerable in the Chains of Harrow boss fight.
Increased the hit box size of a certain mechanic when invulnerable in the Chains of Harrow boss fight.
Red Veil Fanatics now have objective markers on them in the Chains of Harrow boss fight.
Changes:
Optimized potential hitches caused by Infested Spawn Pods.
Vor's Prize quest intro cinematic is no longer skippable.
Razer Chroma effects now play in the Main Menu and when Energy color is changed in the Arsenal.
Disabled mission failure for taking too long in Mastery Rank Tests.
Fixes
Fixed a crash upon opening the Options menu.
Fixed some performance issues with melee weapons and in other areas of the game.
Fixed the Opticor not having it's 1m Punch Through.
Fixed being able to see other players in Palladino's Iron Wake room.
Fixed caches on Kuva Fortress/Dakata giving rewards from the incorrect table (thereby not dropping Cyclone Kraken as intended).
Fixed the Pandero's reload sounds being too loud.
Fixed missing Pandero reload sounds when using it in Dual-Wield.
Fixed Pistols having double responses and animation (sounds, reloading, etc).
Fixed Harrow's Thurible Channeling not being cancellable with « use selected ability button. »
Fixed Harrow's Thurible remaining in his hand if he enters gets downed while Channeling Thurible.
Fixed not receiving the buff after channeling Harrow's Thurible if a context action is used.
Fixed Harrow's Penance not respecting the duration cap on the initial cast.
Fixed being able to damage enemies outside the Rift while you are currently in it.
Fixed bad grass lighting in the Forest tileset.
Fixed not being able to shoot Sapping Osprey mines.
Fixed Harrow's front cloth clipping through his legs during his Agile animation.
Fixed Emotes being disabled for everybody when a Harrow is Channeling his Thurible.
Fixed Stalker 'whooshing' and other sounds being too loud. Fear the whoosh!
Fixed a Corpus door opening incorrectly.
Fixed being unable to hit enemies from within the Rift when using Titania's Razorwing.
Fixed the Sheev, Mire, and Hate having unintentionally reduced Attack Speeds.
Fixed the Staticor not consuming ammo after the mag is depleted.
Fixed being stuck in endless Melee while Dual-Wielding.
Fixed the Berserker Mod not applying to Excalibur's Exalted Blade and its waves.
Fixed missing consoles in the Corpus Ship tileset.
Fixed bad hitproxy on back of Arid and Forest Eviscerator enemies that were blocking head shots from behind.
Fixed an issue where already dead bodies would yield Credits if hit with the Secura Lecta.
Fixed script error when scrolling through available missions in a tab in the World State Window on a controller while on PC.
Fixed a script error when casting Harrow's Thurible or Covenant.
Fixed a script error when casting Oberon's Hallowed Ground.
Fixed a script error when casting Banshee's Sonar.
Fixed a script error when casting Ivara's Quiver.
Fixed a script error when casting Volt's Discharge.
Fixed a script error when casting Mesa's Peacemaker.
Fixed a script error when casting Hydroid's Tidal Surge and Tempest Barrage.
Conclave Changes & Fixes:
Changed Pyrana's Mag to 10 in Conclave to match PvE values.
Fixed the Sonicor doing pve damage in Conclave.
---
Chains of Harrow: Hotfix 21.0.5
Changes:
Optimized a number of PBR textures to improve frame-rate for remastered tilesets on slower PCs.
Reduced Opticor charge time of from 2.5 to 2 seconds.
Temporarily removed Opticor beam thickness until it can be tested more thoroughly.
Narrowed camera view cone and adjusted placement of some cameras in Corpus Spy vaults.
Added controller support to parts of the Chains of Harrow quest.
Added an option to disable Razer Chroma.
Optimized mission loading slightly for people using High Shader Quality.
Tweaked finisher animations for several weapons.
The Baro Ki'Teer's countdown in Relays now shows where he will arrive in next.
Fixes
Fixed a number of performance regressions related to physics interactions between objects; in some cases this would cause a dramatic but temporary drop in frame-rate.
Fixed not being able to hit Nullifier bubbles and other targets with melee weapons and the Opticor.
Fixed some metal surfaces in the Corpus Spy vaults being transparent to security cameras.
Fixed occasional Network Not Responding messages for people who have linked their account to Twitch.
Fixed transmissions in certain quests being stuck on repeat (eg: Sands of Inaros).
Fixed pillar hit-detection in the Cunning Drift Hall of Ascension (more improves to follow).
Fixed Sentinel Precepts being activated at the start of Archwing missions.
Fixed some cases where you would mount ziplines such as Ivara's Dashwire and then be unable to move from that spot.
Fixed Companions in the Simulacrum sometimes dying upon entering the Arsenal.
Fixed Companions floating slightly off the ground in the Simulacrum Arsenal.
Fixed Nox's scream not being ducked during transmissions.
Fixed rare crashes on level load.
Fixed certain effects in the Chains of Harrow quest showing up prematurely.
---
Chains of Harrow: Hotfix 21.0.6
Changes:
Harrow's Covenant now applies to Companions.
Added weekly Defection leaderboards (scored the same as the Pacifism Defect).
Added Affinity rewards for each Defection squad evacuated.
Optimized away 1MB of reserve memory.
Integrated localization updates.
Fixes:
Fixed the Synthesis Scanner not scanning Simaris targets.
Fixed Defection losing track of a Kavor when two squads extracted together and both the 4th and 5th defector arrived at the extraction point within half a second of each other.
Fixed an endless loading screen when trying to load into Galleon survival for a Clem weekly mission.
Fixed a broken foliage material that could cause some graphics drivers to crash.
Fixed chat text not appearing while in gameplay in some cases.
Fixed Toxin Resistance's description (added % for clarity).
Fixed script error in Harrow's Covenant.
---
Protideus – Tenno à la retraite