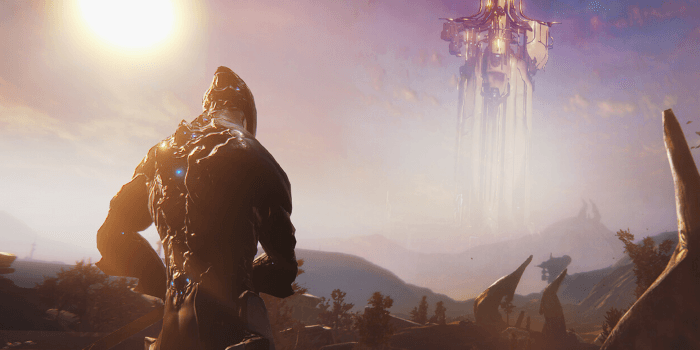 Plains of Eidolon : Hotfix 22.1.0
TennoGen Round 10! 
Warframe Skins
Titania Unseelie Skin by Rekkou
Nezha Yaksha Skin by Faven and SilverBones
Atlas Graxx Skin by Faven
Mesa Devil Ranger Skin by Mz-3
Valkyr Delusion Skin by prosetisen
Limbo Vistyxio Skin by led2012 and Hydroxate
Warframe Helmets
Valkyr Pandora Helmet by Yatus
Banshee Dominia Helmet by led2012
Frost Himavat Helmet by VoidPunch
Limbo Venari Helmet by Volkovyi and Sab531
Additions
You can now access your Mod collection while in Cetus!
There is now a 'Leave Squad' option in the Plains of Eidolon. This will allow you to depart from a squad to your own session, which will allow you to extract independently.
Players on the Public Matchmaking setting will now matchmake when the begin to load into the Plains rather than waiting until the end.
Bounties now have indicators for their current and total stages to clear up confusion about their objectives.
Changes
Reduced the Resource costs for all Zaw Grips and Handles (apart from the Balla and Peye).
Clapkra Brace energy ammo increased from 20 to 40
Lohrin Brace now boosts critical and status chance by 12% each.
Increased the damage of Spiraling Pinnacle, Summit Plunge and Vaulting Apex combos from the Twirling Spire Polearm Stance.
Limbo can no longer mine while in the Rift. Rocks aren't affected by his Void Magic.
Relays/Cetus will now only show Calm and Busy instances
Updated Cetus' MotD
Fixes
Fixed an issue where joining friends in other Cetus instances can cause a squad to split or get stuck.
Fixed Ignis (and similar weapons) being able to damage friendly Gara's Spectrorage mirrors.
Fixed issues with the description text of Virtuos Fury.
Fixed issues with getting out of bounds with Ivara's Dashwsire.
Fixed issues with some name choices for items displaying the wrong error.
Fixed issues with unclear error messages when Gilding Amps that were unranked.
Fixed issues with Operator Amp customizations not being applied in missions.
Fixed an issue with the Lohrin Brace not applying its Upgrades to Amps.
Fixed Stat improvements from Gilding an Amp not being applied.
Fixed an issue with some Mods not being chat linkable.
Fixed being able to use Transference in first mission of The War Within.
Fixed issues with Gara's Spectrorage radius being too small.
Fixed issues with Host Migration causing Operators not working as intended.
Fixed a UI issue where Nidus' Mutation Stack counter blocked the melee combo counter.
Fixed issues with hitches when loading into some Plains Free Roam missions.
Fixed an issue where the mission Challenge information would remain on screen if you were transitioning from Plains to Cetus.
Fixed Clients getting stuck in animations if they used Transference just as they enter bleedout and then get revived.
Fixed Client Warframes not being targetable if they are revived after having used transference just as they entered bleedout.
Fixed erroneous HUD buff icons appearing.
More fixes for Convergence spawning in air and underground.
Fixed various performance issues.
Fixed Bounty names being localized for clients in the host's language.
Fixed a camera issue when respawning in TWW quest.
Fixed HUD script running on clients unnecessarily.
Fixed Vulkar and Vulkar Wraith incorrect headshot damage (now: Zoom1 35%, Zoom2 55%).
Fixed inconsistent Arcane descriptions between vendor and Arcane menu.
Fixed the blocked ability icon from showing while in Operator mode.
Fixed Hok's special weapon not being attached to the wall.
Fixed second dream script error.
Fixed Electric Chroma's Elemental Ward discharging too much electricity.
Fixed Ember Agile unarmed variant sometimes playing the akimbo variant.
Fixed the first shadow from Nekros Shadows of the Dead being spawned far away and potentially out of bounds.
Fixed Prism Operator fire potentially causing large negative numbers.
Conclave Changes & Fixes:
Fixed Ivara's « The Power Of Three » Augment needing more energy than it should if you tried to use it repeatedly
---
Hotfix 22.1.0.1
Additions:
Fixes:
Fixed crashing in certain Archwing missions.
---
Plains of Eidolon: Hotfix 22.1.1
Fishing changes:
Take your fishing to the next level with a nifty "tackle box" gear wheel! You can now select the fishing spear and bait you'd like to use from a secondary Gear Wheel – Simply equip your fishing spear and re-open the Gear Wheel to make a selection from the spears and bait you've earned from Hai-Luk in Cetus.
If desired, you can still equip all 3 fishing spears in your default Gear Wheel, but if you're looking to save some gear slots all you need to do is equip 1 fishing spear in your Arsenal.
The time in which fish bait is effective has been increased.
Animations when switching between different fishing spears has been added.
Changes: 
Reduced the frequency of Incursion missions occurring if you ignore them. When an Incursion mission is available, a ping sound will play, and the Lotus' transmission will play only if you engage it.
Made the smoke on Atlas Graxx helmet more visible, especially when in the Arsenal.
Bounties with only one stage will no longer display the Bounty stage counter.
Updated the description text when hovering over a Junction to better describe how exactly you can unlock it.
Fixes: 
Fix several issues with Ostrons in Cetus and Konzu repeating redundant lines after returning from the Plains.
Fixed a rare crash when attempting to leave Cetus and enter the Plains.
Fixed supply drop missions in the Plains not progressing if you resurrected the enemy that held the beacon using Nekros' Shadow Of The Dead.
Fixed Frost's Snow Globe having visible holes when observed from the inside.
Fixed Gara's Mass Vitrify unintendedly crystallizing Captain Vor and Lieutenant Lech Kril.
Fixed a script error related to Titania's Razorwing ability.
Fixed a script error related to Ember Prime's World on Fire ability.
Fixed a rare UI freeze when hitting tab the second you finish a Bounty that would cause a script error and prevent Clients from earning their rewards.
Fixed a crash related to attempting to leave a squad before the mission has started.
Fixed a crash related to a Client aborting a mission.
Fixed being able to place two different waypoint markers by placing 1 each as your Warframe and your Operator.
Fixed being unable to attempt a Bounty a second time (even if able to accept it from Konzu) after only completing the first portion of it and then returning to Cetus.
Fixed Operator hair losing bangs when wearing a Mache mask.
Fixed an incorrect material on Titania's Unseelie Skin Tennogen skin.
Fixed an issue with chat linking "Community Sigil" displayed the incorrect Sigil.
Fixed all cases of Maroo's Bazaar being located on Earth instead of Mars.
Fixed an issue where rapidly equipping/unequipping your fishing spear could cause Clients to no longer use Consumables properly.
Fixed several issues related to the animations for equipping a fishing spear.
Fixed fish spawns piling up in large bodies of water.
Fixed a case where fish would move much too slowly after being scared away by a spear.
Fixed the Teralyst unintendedly spawning in the Plains of Eidolon Captura scene during the night cycle.
Fixed an issue where gamepad users playing with the Classic controller config couldn't use bait.
Fixed an issue where Clients would have their fishing spear equipped but not have access to the correct gear menu after host migration and forced to swap weapons to regain access.
Fixed Teralyst disappearing as per: https://forums.warframe.com/topic/867427-teralyst-can-turn-invisible-fix-pending
Fixed Madurai's Void Strike not applying the damage increase on next attack to Warframes.
Fixed a progress stopper in the Natah quest where drones would not spawn.
Fixed issues with Syandanas clipping through Gara's lower back.
Made progress on a rare crash related to the gates to Cetus/Plains.
Fixed Madurai's Phoenix Spirit not increasing the elemental damage of Flame Blast.
Fxied Void Traces not being obtained if the last Reactant you pick up is with your Operator.
Tentatively fixed Onkko being in a reference pose when you return to Cetus from the Plains.
The following changes/fixes went live in 22.1.0 but were missing a mention in the notes, so we're adding them here now:
Increased the Resource Theft defense target's base health from 500 to 700
Added a health warning transmission to the Resource Theft Incursion.
Progress on fixing an issue where after finishing the first part of a Bounty the mission would not progress and no second marker will appear on the minimap.
---
Plains of Eidolon: Hotfix 22.1.2
Additions:
SIGMA & OCTANTIS – Day 700 Daily Tribute Milestone Sword and Shield
Deadly slashes from the Sigma sword are matched only by the force of the Octantis shield when thrown via air melee attacks. Enemies hit by the Octantis are also stunned for a short period of time, leaving them open to finisher attacks.
Fixes: 
Fixed host migration restarting the last stage of a Bounty to a broken state when the Bounty was already completed during that session.
Fixed chat-linking not working for the Kinetic Diversion, Target Acquired and Spring-Loaded Blade mods.
Fixed several fish spawning and despawning issues including retreating fish completely stopping before despawning. They should now keep swimming as intended.
Fixed various fish moving but lacking animation when doing so, and also repaired some with broken animations.
Fixed Transports having two entries in the Codex.
Fixed multiple Nightwatch Enemy Codex entries with incorrect weapons and placeholder text for descriptions.
Fixed an unintended issue where players could pick up Eidolon Shards after joining in-progress missions where the Teralyst had already been killed.
Fixed an issue where Brilliant Eidolon Shards were not properly accounted for in the Focus Conversion screen after used to unlock Way-Bound nodes.
Fixed a bug that allowed players to fish in the town of Cetus.
Fixed a rare crash that would occur when transitioning from Cetus to the Plains, and another when transitioning from the Plains to Cetus.
Fixed the Esc menu and the tutorial popups in Vor's Prize appearing stretched in non-standard aspect ratios.
Fixed certain Ostron dialogue not playing when it should.
Fixed the material of Valkyr's Delusion Tennogen Skin incorrectly applying when toggling on the Prime details for Valkyr Prime in the Arsenal.
Fixed Clients hearing Operator footstep sound FX playing after quickly switching from Operator to Warframe.
Fixed long Zaw Grips having similar range to one-handed weapons even though they are physically longer than some other long weapons.
Fixed Clients not gaining energy from Void Dashing through enemies as your Operator.
---
Protideus – Tenno à la retraite