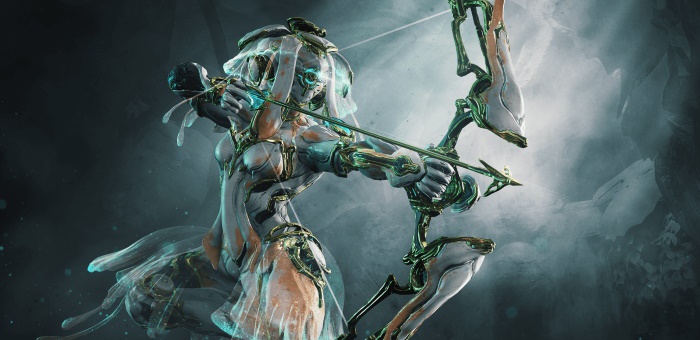 Empyrean: Ivara Prime 27.0.4
IVARA PRIME HAS ARRIVED!
Practice stealth as you track your prey, then strike with ruthless precision as Ivara Prime! No hunt is complete without the Baza Prime and Aksomati Prime!
Ivara Prime
As regal and lethal as a nighttime wood, this is the queen of the hunt in her ultimate form.
Baza Prime
The Orokin-engineered definition of silent lethality.
Aksomati Prime
The elegant Aksomati precisely refined to its ultimate manifestation.
You can find Ivara Prime, Baza Prime, and Aksomati Prime Relics in their classic spots (Void, Derelict, Defense, Survival, etc) with the addition of Railjack missions – All Credit Cache Rewards have been replaced with Relics! Check your in-game Codex for Relic drop locations.

Get the newest Prime gear with Ivara Prime Access and Prime Accessories here: https://www.warframe.com/prime-access
With this Vaulting comes the shift of the following Syndicate Sacrifices:
Replaced Steel Meridian's Sacrifice of Zephyr Prime Chassis with Equinox Prime Neuroptics
Replaced Arbiters of Hexis' Sacrifice of Kronen Prime Blade with Tipedo Prime Handle
Replaced Perrin Sequence's Sacrifice of Zephyr Prime Chassis with Wukong Prime Chassis
If you already wield the power of these Primes or have their Relics in your Inventory, they will remain after the Vaulting.
Railjack Changes & Fixes:
Added Railjack Health perks for performing repairs on the Railjack:

15% of max Health for Fire and Electricity Traps
20% of max Health for Ruptures
30% of max Health for Hull Breaches

Currently a Hull Breach Repair grants you 10 seconds of Railjack invulnerability. With the added Health perk for Hull Breaches, we've tweaked the Railjack Invulnerability time to grant a benefit to those with haste to compensate! Repairing a Hull Breach now grants Railjack invulnerability scaled to the amount of time left on the 'Catastrophic Failure Imminent' timer. You can get anywhere from 5 – 15 seconds of Railjack invulnerability based on your Hull Breach Repair urgency.
Removed Credit Caches from the Railjack reward table! Relics have been added in Railjack missions to compensate for this.
Increased the cooldown of the Elite Kosma Flak's Shield ability and fixed the shield not actually blocking damage sometimes.
Adjusted hit boxes on the Elite Kosma Flak for improved accuracy.
Adjustments to the Archwing Cannon firing animation for a less janky launch.
Removed a certain floating prison found in Railjack missions due to numerous collision/sizing issues. It shall return at a later date!
Enabled Push-To-Talk in Railjack keyboard bindings.
Removed Crewship eligibility from the Simulacrum.
Fixed the Sover Strait node missing from Earth Proxima.
Fixed attempting to load to the Dry Dock through the Railjack from the Orbiter sometimes causing infinite loading or a crash.
Fixed a soft lock when attempting to Repair Wreckage in someone else's Dojo.
Fixed a crash when attempting to load into a Railjack mission with a Friend.
Fixed a crash when returning to the Dry Dock from a failed mission.
Fixed a crash when selecting a Shield Array MK III.
Fixed having to re-complete the Railjack objectives if there was a Host migration.
Fixed getting numerous script errors after completing multiple missions and a Host migration occurred. This could result in objectives breaking or not updating after the migration.
Fixed Pilot Intrinsic "Ramming Speed" not functioning.
Fixed missing Railjack Health after a Host migration occured.
Fixed the 'Ramming Speed' Pilot skill not functioning.
Fixes towards infinite Railjack Void tunnel when transitioning from different levels.
Fixed being placed in a weird state if you tried to launch out of the Railjack Cannon right after the Host did.
Fixed enemy Crewships attempting to fire at things that aren't visible, either due to cover or via being invisible (ie. Itzal).
Fixed discrepancies with End of Mission Intrinsics gained sometimes not displaying correctly.
Fixed Railjack End of Mission results getting stuck on screen if kept open during return to Dry Dock.
Fixes towards Clients not seeing all their gained items on the End of Mission screen when returning to the Dry Dock.
Fixed not being awarded the Forging Bay Resources from your Railjack mission upon returning to the Dry Dock.
Fixed some Railjack Components not having their upgrades unapplied when the Component is removed.
Fixed Shield Arrays with the Shield redirection buff giving the Railjack an infinite buff. This also removes the resistance buff from the shield redirection buff. Wing Turrets still receive the same damage bonus on next shot.
Fixed the Avionic Scrap screen not displaying the Ranks of Avionics.
Fixed the Avionic Scrap screen perpetually appearing when opening your Inventory screen if you accessed the Scrap screen prior.
Fixed turning invisible if you were in another players Railjack Arsenal when the mission started.
Fixed Railjack walls appearing invisible when a Ramsled hits you while you're in the Nose Turret AR (Augmented Reprojection) mode.
Fixed Warframe ability sounds not playing properly when in a Railjack Turret.
Fixed the Dry Dock platform used to enter the Railjack clipping into it if the Caballero Railjack Skin is equipped.
Fixed base Components displaying a rank [0]. These are base items that have no rank.
Fixed ability to craft more Munition than you can afford in the Payload screen, thus going into the negative values and receiving an error.
Fixed Dredger and Outrider projectiles going through collisions.
Fixed a script error when the Forward Artillery Cannon is charging while someone is transitioning between the Railjack and Archwing.
Fixed cases of the Forward Artillery Cannon becoming stuck when attempting to face your target.
Fixed the Forward Artillery Cannon not functioning after a Host migration has occurred.
Fixes towards the Railjack appearing very dark (Cy forgot to pay the hydro bill).
Fixed seeing the wrong prompt when attempting to further rank up an already max rank Intrinsic.
Fixed missing texture in the Tactical Menu minimap when it's opened while returning to the Dry Dock.
Fixed duplicate description text for Reactors with the « chance to automatically seal a breach » perk.
Fixed Outriders being stuck to Turrets in their Codex diorama.
Fixed losing your chosen UI Theme when Piloting a Railjack.
Fixed Client audio replication bugs on the Radar Tower in Railjack.
Fixes to some Archwing Cannon sounds not playing correctly.
Fixed Octavia Abilities not properly ducking ambient and combat music in Railjack.
Fixed some overly repetitive Cy transmissions.
Fixed missing transmissions for Gallen/Asteroid Base points of interest.
Fixed missing descriptions for Chat linked Railjack Resources.
Fixed a script error when using the Omni.
Fixed a script error when viewing/closing the Tactical Menu.
Fixed a script error in the Railjack HUD.
Fixed a script error when a Crewship encounter started.
Fixed script error that can occur when reviving after dying in a Turret.
Fixes:
Fixed inability to play the Kuva Fortress Pago Spy node.
Fixed being loaded into a completely different mission when attempting to play a dynamic mission types (Kuva Siphons, Syndicate etc) when using Public matchmaking. This only occurred if there were more than one of that mission-type on the same planet at the same time.
Fixed Sawgaws being near impossible to Tranq.
Fixes towards Excalibur Zato's front cloth clipping which could sometimes result in weird triangle cloth textures.
Fixes towards clipping issues with Excalibur Zato's left shoulder fur cloth.
More fixes towards Syandanas clipping into Titania's Empress Skin.
Fixed the Gear wheel not having correct tooltips when switching back and forth between Gear and Emotes.
Fixed two different weapon sounds being heard when firing Titania's Dex Pixia with the Hawkmoth Skin equipped.
Fixed a script error when viewing Profit-Taker Orb in the Codex.
Fixed script error that could occur when Nullifier dome collides with a Kuva cloud.
Fixed a script error related to Venari.
Fixed script errors when your Kuva Lich would attempt to Dodge or Decoy.
Fixed script errors for numerous Warframe ability castings.
Fixed a script error when the Molecular Conversion Taxon Precept Mod deactivates.
Fixed a script error when being pulled by a Grineer Scorpion.
Fixed an issue with Grineer Ghouls causing a script error.
Fixed missing translations in some languages that were being presented in English.
Modifié il y a 33 minutes par [DE]Megan
added translation fix line
Protideus – Tenno à la retraite